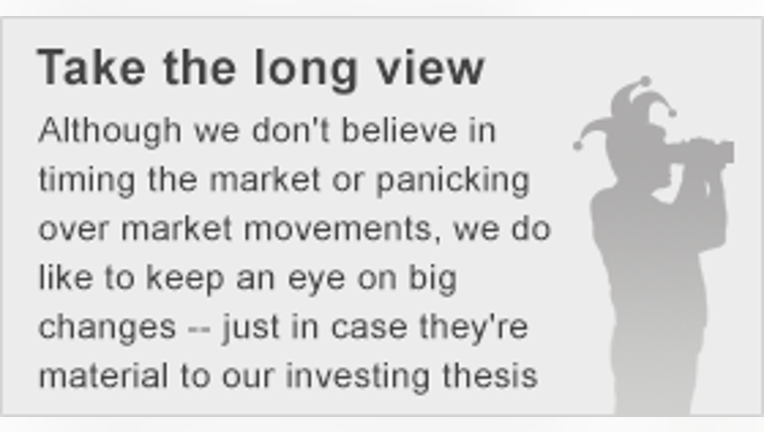 What: Shares of wind farm owner Pattern Energy Group Inc popped 16.8% in December after the company got a huge boost from Congress.
So what: Solar companies got a lot of attention in December after the solar investment tax credit was extended. But alongside that extension was an extension of the wind production tax credit. This is a credit of 2.3 cents per kWh of production from wind that has come and gone from the tax code for years. In December, it was extended through 2016 with a phase-down of 20% per year after that until it reaches 0 in 2020.
Pattern CEO Mike Garland says the incentive will allow the company to build more assets in coming years, especially with a long-term policy in place.
Now what: This was a direct financial benefit to Pattern Energy Group, but it also gave certainty to a wind industry that's had years of up and down incentives. In 2013, when the PTC expired briefly the number of wind installations dropped 92%, and since it can take years to plan projects, a long-term phase-down is the right move.
I think this is just the start for a company like Pattern Energy Group, and 2016 will be a strong year for the company. A dividend yield of 7.1% also makes the stock an attractive investment, and with renewed growth opportunities, there is upside ahead.
The article Why Shares of Pattern Energy Group Inc. Popped in December originally appeared on Fool.com.
Travis Hoium has no position in any stocks mentioned. The Motley Fool has no position in any of the stocks mentioned. Try any of our Foolish newsletter services free for 30 days. We Fools may not all hold the same opinions, but we all believe that considering a diverse range of insights makes us better investors. The Motley Fool has a disclosure policy.
Copyright 1995 - 2016 The Motley Fool, LLC. All rights reserved. The Motley Fool has a disclosure policy.