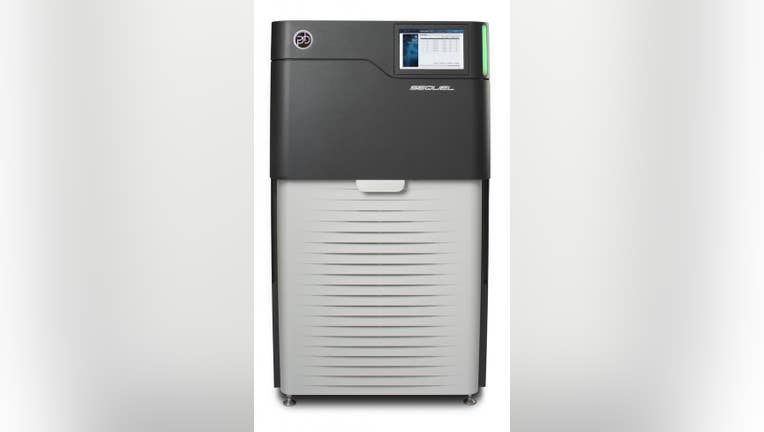 The Sequel System. Image source: Pacific Biosciences.
What: Shares of DNA sequencing company Pacific Biosciences of California jumped as much as 19% today after the company reported first-quarter earnings.
So what: Revenue rose 8% from a year ago to $19.1 million and net loss fell from $20.2 million a year ago to $19.4 million, or $0.23 per share. The earnings figure beat expectations by a penny, but most investors were looking further down the road.
Management said on its conference call that revenue will be at least $93 million this year and gross margin will be in the high 40% range. Both numbers were slightly better than expected, and with momentum just beginning for the Sequel System, there could be a bright future ahead.
Now what: Pacific Biosciences launched the Sequel System late last year, and it needs the product to be a success to get to breakeven financially. And there is a lot of momentum in that direction. There have been 79 systems ordered in just two quarters, half of the number of previous generation systems sold in five years. And as systems are installed and used, the company will generate ongoing revenue from consumables. It'll still be a year or more before quarterly losses end, but on an operational front, the company is hitting on all cylinders and that got investors excited today.
The article Why Shares of Pacific Biosciences of California Spiked 19% Today originally appeared on Fool.com.
Travis Hoium has no position in any stocks mentioned. The Motley Fool recommends Pacific Biosciences of California. Try any of our Foolish newsletter services free for 30 days. We Fools may not all hold the same opinions, but we all believe that considering a diverse range of insights makes us better investors. The Motley Fool has a disclosure policy.
Copyright 1995 - 2016 The Motley Fool, LLC. All rights reserved. The Motley Fool has a disclosure policy.