Why Shares of Nike Inc. Have Fallen 13% in 2016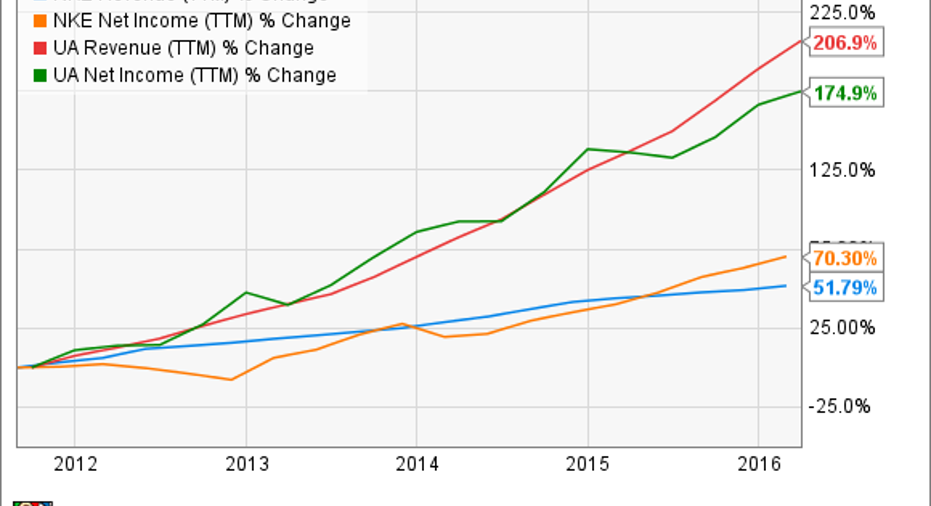 Image source: Getty Images.
What: Shares of sports apparel company Nike Inc. have fallen 13% so far in 2016, according to data provided by S&P Global Market Intelligence, despite solid financial results to start the year.
So what: Revenue grew 8% in the most recent quarter and net income was up 20% to $950 million. But Under Armour and Stephen Curry's popularity have made Nike a little less attractive to investors. You can see below that Nike's growth is impressive over the last five years, but it's nothing compared to Under Armour's.
NKE Revenue (TTM) data by YCharts.
Falling expectations for global growth are also a macro concern for Nike. Its scale is such that it is affected by the global economy more than smaller competitors are and that's weighing on investors' minds in 2016.
Now what: While investors may need to temper growth expectations if the global economy doesn't grow much this year or next, Nike is still a best in breed investment. The company has an incredible brand and endorsements with dozens of athletes that give it credibility in almost every major sport.
From a value perspective, the stock is looking better than it did to start the year. Shares are trading at just 25.4 times trailing earnings and management set a target recently to double its business by 2020. Given the growth potential ahead and the strong brand position, Nike is a good-looking investment for long-term investors despite the stock's slow start to 2016.
The article Why Shares of Nike Inc. Have Fallen 13% in 2016 originally appeared on Fool.com.
Travis Hoium has no position in any stocks mentioned. The Motley Fool owns shares of and recommends Nike and Under Armour (A Shares). Try any of our Foolish newsletter services free for 30 days. We Fools may not all hold the same opinions, but we all believe that considering a diverse range of insights makes us better investors. The Motley Fool has a disclosure policy.
Copyright 1995 - 2016 The Motley Fool, LLC. All rights reserved. The Motley Fool has a disclosure policy.