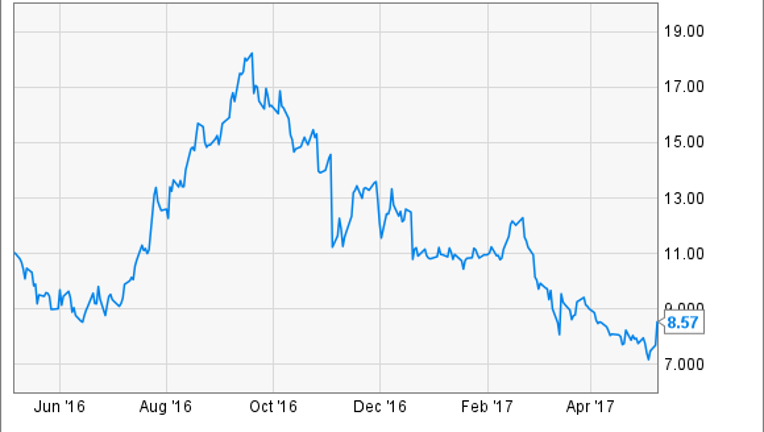 What happened
Shares of optoelectronics module and subsystem manufacturer NeoPhotonics Corp.(NYSE: NPTN) jumped on Tuesday. The company's first-quarter report on May 5 and a positive analyst note on May 8 may be driving the gain. The stock was up about 11% at 3 p.m.
So what
NeoPhotonics' first-quarter results were mixed relative to analyst estimates. Revenue dropped 28% year over year to $71.7 million because of the sale of its low-speed transceiver business and weak demand in China. This was about $1.65 million above the average analyst estimate.
Image source: Getty Images.
Non-GAAP EPS was a loss of $0.25, $0.03 lower than analyst expectations. NeoPhotonics announced a cost-saving program in response to weak demand in China, and it expects to remove between $6 million and $9 million in annualized operating costs.
Despite the mixed results, an analyst at Needham & Company reiterated a "strong buy" rating on Monday. The analyst believes that the worst of the China issue is over, with solid growth returning during the second half. The analyst's price target of $13 per share remained unchanged.
Now what
Shares of NeoPhotonics have tumbled since peaking in late 2016. Even after Tuesday's rise, the stock is down more than 50% from its 52-week high.
The positive analyst commentary gave the stock a boost, but the company will probably need to return to revenue growth and profitability for a full recovery to take place.
10 stocks we like better than NeoPhotonicsWhen investing geniuses David and Tom Gardner have a stock tip, it can pay to listen. After all, the newsletter they have run for over a decade, Motley Fool Stock Advisor, has tripled the market.*
David and Tom just revealed what they believe are the 10 best stocks for investors to buy right now... and NeoPhotonics wasn't one of them! That's right -- they think these 10 stocks are even better buys.
Click here to learn about these picks!
*Stock Advisor returns as of May 1, 2017
Timothy Green has no position in any stocks mentioned. The Motley Fool has no position in any of the stocks mentioned. The Motley Fool has a disclosure policy.