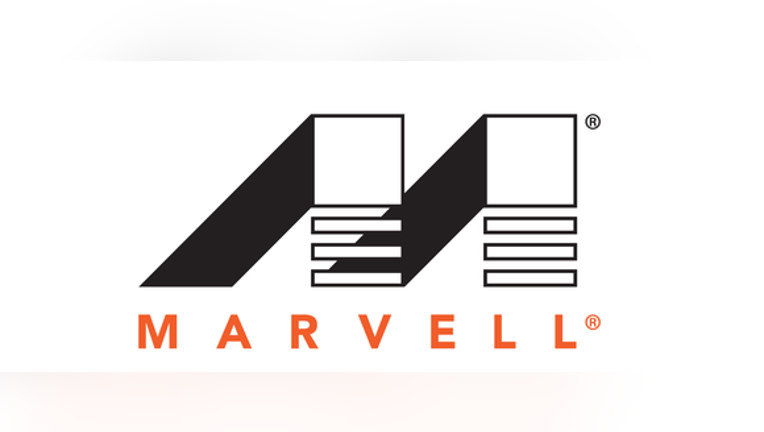 Image source: Marvell Technology Group.
What happened
Shares of Marvell Technology Group (NASDAQ: MRVL) rose on Friday following the company's third-quarter report. In addition to beating analyst estimates for both revenue and earnings, Marvell announced a $1 billion share repurchase program. At 2:45 p.m. EST, the stock was up about 10%.
So what
Marvell reported third-quarter revenue of $654.4 million, down 3% year over year but about $38 million higher than the average analyst estimate. CEO Matt Murphy pointed to double-digit growth in Marvell's core data storage and network infrastructure businesses as the main driver behind the better-than-expected revenue.
Non-GAAP earnings per share (EPS) came in at $0.20, up from $0.06 during the prior-year period and $0.08 higher than analyst expectations. GAAP operating expenses were slashed by 19.5% compared to the third quarter of 2015, driving earnings higher despite lower revenue. Marvell announced a restructuring effort earlier this month aimed at reducing its annual operating expenses to the range of $820 million to $840 million, down from a current annualized run rate of $1.08 billion.
In addition to reporting its results, Marvell announced that it had authorized a $1 billion share buyback program. This replaces a previous $3.25 billion buyback program that has $115 million of repurchase authority remaining. Marvel expects to buy back about $500 million worth of shares over the next year.
Now what
Marvel expects fourth-quarter revenue of $565 million, excluding discontinued operations. The company points out that this reflects normal seasonality, but analysts were expecting revenue guidance of $594.6 million. Non-GAAP EPS is expected between $0.17 and $0.21, above analyst expectations of $0.13.
While Marvell's guidance was mixed, the company's focus on cutting costs and driving profitability higher seems to be resonating with investors.
Forget the 2016 Election: 10 stocks we like better than Marvell Technology Group Donald Trump was just elected president, and volatility is up. But here's why you should ignore the election:
Investing geniuses Tom and David Gardner have spent a long time beating the market no matter who's in the White House. In fact, the newsletter they have run for over a decade, Motley Fool Stock Advisor, has tripled the market.*
David and Tom just revealed what they believe are the ten best stocks for investors to buy right now... and Marvell Technology Group wasn't one of them! That's right -- they think these 10 stocks are even better buys.
Click here to learn about these picks!
*Stock Advisor returns as of November 7, 2016
Timothy Green has no position in any stocks mentioned. The Motley Fool has no position in any of the stocks mentioned. Try any of our Foolish newsletter services free for 30 days. We Fools may not all hold the same opinions, but we all believe that considering a diverse range of insights makes us better investors. The Motley Fool has a disclosure policy.