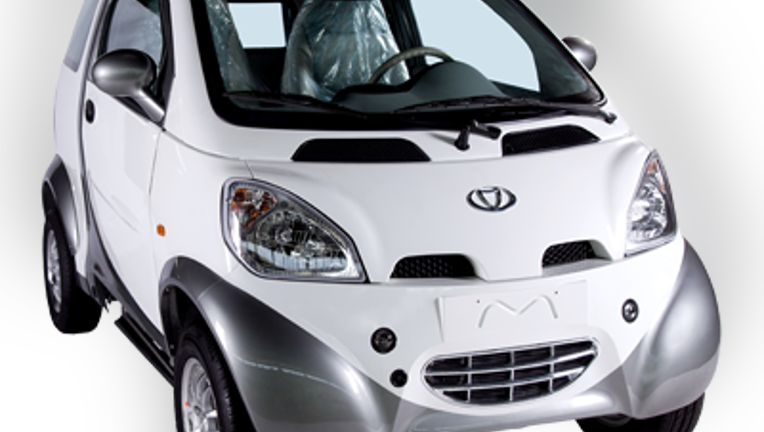 Kandi's KD-5011 electric vehicle. Image source: Kandi Technologies Group.
What: Shares of Kandi Technologies Group, a company engaged in the research, development, and manufacturing of electrical vehicles and products, are flying 20% higher Monday during early-morning trading after it released solid fourth-quarter earnings.
So what: Total company revenues grew 11.2% to $58.8 million during the fourth quarter, compared to the prior year. That was driven by electric vehicle parts sales, which increased a solid 51.6% to $57.5 million during the fourth quarter.
GAAP net income for the fourth quarter checked in at $0.8 million, or $0.02 per fully diluted share, and non-GAAP adjusted net income was $13.9 million compared to only $4 million in the prior year's fourth quarter.
"Our significant achievements in 2015 include excellent financial results, particularly with sales and gross margin meeting our expectation," said CFO Wang Cheng (Henry) in a press release. "During the year, key milestones, including the successful launch of the direct sales program and the expansion of the MPT program to 16 cities were accomplished. With a solid foundation built for our EV business, we believe that the Company will continue to achieve strong financial performance in 2016."
Now what: Looking forward, Kandi expects net revenues to check in between $46 million and $48 million during the first quarter of 2016 and for gross margins between 13.5% and 14.5%. Revenue for the full-year 2016 is expected to be between $270 million and $300 million.
More importantly, Kandi is proving that not only can it grow its top line, but it can produce results on the bottom line. The good news for investors is that China's government has continued to incentivize the growth of the electric vehicle industry as pollution remains a huge issue facing the country.
The article Why Shares of Kandi Technologies Group, Inc. Are Soaring 20% Higher originally appeared on Fool.com.
Daniel Miller has no position in any stocks mentioned. The Motley Fool recommends Kandi Technologies. Try any of our Foolish newsletter services free for 30 days. We Fools may not all hold the same opinions, but we all believe that considering a diverse range of insights makes us better investors. The Motley Fool has a disclosure policy.
Copyright 1995 - 2016 The Motley Fool, LLC. All rights reserved. The Motley Fool has a disclosure policy.