Why Shares of Kandi Technologies Fell Over 10% This Morning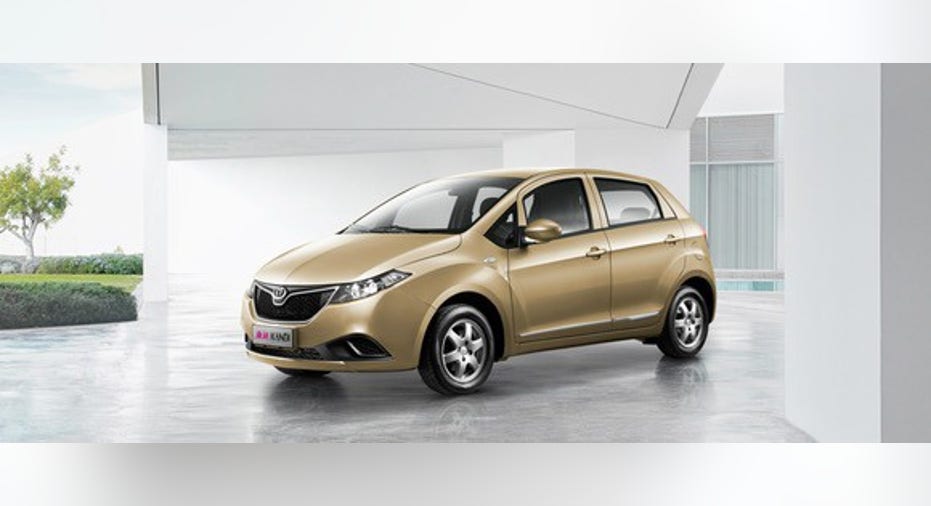 What happened
Shares of Chinese electric-vehicle maker Kandi Technologies (NASDAQ: KNDI) fell sharply on Wednesday morning. As of 11:45 a.m. EST, Kandi's shares were trading at $3.97, down 10.7%.
So what
Kandi's third-quarter earnings report was released before the bell, and it was a disaster. Revenue fell over 87% to just $6.4 million, and it lost almost $600,000 after making $2.3 million a year ago.
What happened? Kandi's primary business involves selling electric-vehicle parts to an electric-car joint venture it owns with automaker Geely Automobile Holdings (NASDAQOTH: GELYF). It's heavily dependent on subsidies provided by the Chinese government to spur the development of electric vehicles. But a big subsidy payment has been heldup while the government investigates fraud allegations across the industry.
The joint venture's latest model is theGlobal Hawk K17A, an affordable electric hatchback with a claimed range of 151 kilometers. Image source: Kandi Technologies.
As CEO Hu Xioming explained on Wednesday:
The investigation has already borne fruit. In September, five of Kandi's rivals were fined and removed from the list of companies eligible for subsidies.
Now what
Hu said that Kandi has been working with government officials and expressed confidence that the subsidies will be paid "soon" -- but he didn't give a timetable. Meanwhile, he said, the company is working on new models for 2017 and gearing up for an initial public offering of the joint venture.
10 stocks we like better than Kandi Technologies When investing geniuses David and Tom Gardner have a stock tip, it can pay to listen. After all, the newsletter they have run for over a decade, Motley Fool Stock Advisor, has tripled the market.*
David and Tom just revealed what they believe are the ten best stocks for investors to buy right now... and Kandi Technologies wasn't one of them! That's right -- they think these 10 stocks are even better buys.
Click here to learn about these picks!
*Stock Advisor returns as of November 7, 2016
John Rosevear has no position in any stocks mentioned. The Motley Fool recommends Kandi Technologies. Try any of our Foolish newsletter services free for 30 days. We Fools may not all hold the same opinions, but we all believe that considering a diverse range of insights makes us better investors. The Motley Fool has a disclosure policy.