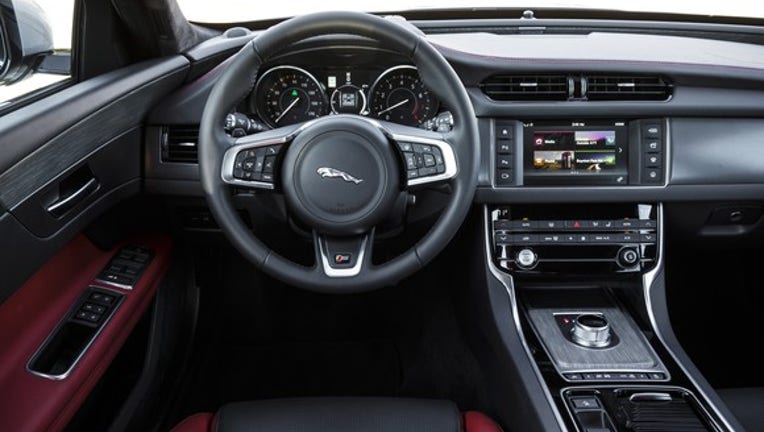 What happened
Shares of Harman International Industries (NYSE: HAR) soared on Monday morning. As of shortly after noon EST, Harman shares were trading at $109.82, up 25.3% from Friday's close.
So what?
Harman announced on Monday morning that it has agreed to be acquired by Korean giant Samsung Electronics (NASDAQOTH: SSNLF) for $8 billion in cash. That's a 28% premium over Harman's Friday closing price.
Harman owns several premium consumer and professional audio brands. In recent years, it has build a significant business supplying "infotainment" systems to automakers, becoming a center of expertise on "connected car" technology in the process.
Harman developed and supplied the touchscreen "infotainment" system in this Jaguar sedan. Harman's status as an auto supplier drew the interest of giant Samsung. Image source: Jaguar Land Rover.
Autos are now the majority of Harman's business: About 65% of its sales are auto-related. Its partners include Fiat Chrysler Automobiles (NYSE: FCAU), BMW (NASDAQOTH: BAMXF), and several other automakers, including most of the premium European brands.
That's what drew Samsung's interest. Samsung is a huge player in consumer electronics, but until recently it hasn't had a significant presence in autos, where technology is rapidly transforming the products and industry. Acquiring Harman will instantly make Samsung a serious contender for new business from the global automakers.
Now what?
The deal awaits approval by regulators and Harman shareholders, but at first look it doesn't seem likely to draw significant opposition from either. If all goes smoothly, the parties expect the deal to close in mid-2017.
10 stocks we like better than Harman International Industries When investing geniuses David and Tom Gardner have a stock tip, it can pay to listen. After all, the newsletter they have run for over a decade, Motley Fool Stock Advisor, has tripled the market.*
David and Tom just revealed what they believe are the ten best stocks for investors to buy right now... and Harman International Industries wasn't one of them! That's right -- they think these 10 stocks are even better buys.
Click here to learn about these picks!
*Stock Advisor returns as of November 7, 2016
John Rosevear has no position in any stocks mentioned. The Motley Fool recommends BMW. Try any of our Foolish newsletter services free for 30 days. We Fools may not all hold the same opinions, but we all believe that considering a diverse range of insights makes us better investors. The Motley Fool has a disclosure policy.