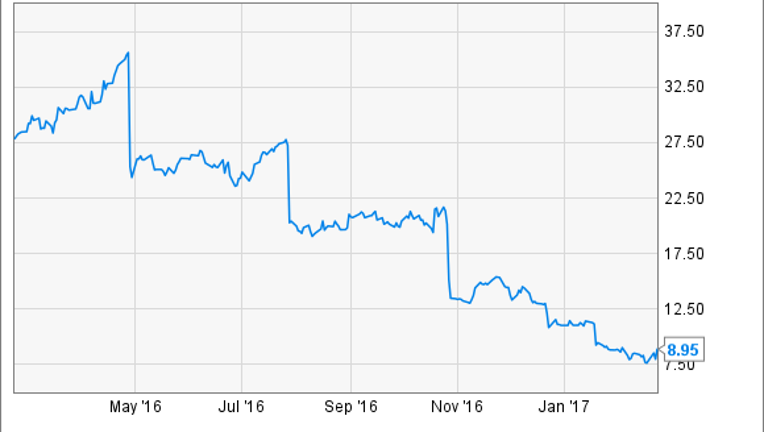 What happened
Shares of vitamin and supplement retailer GNC Holdings (NYSE: GNC) surged on Thursday, with two significant insider purchases likely driving the gains. Both Interim CEO Robert Moran and director Michael Hines filed notice of their recent purchases with the SEC, prompting investors to push the stock up 15% by 3:15 p.m. EST.
So what
Moran, who took over as Interim CEO in July of last year amid slumping sales, reported the purchase of approximately 600,000 shares on Feb. 21. This brings Moran's total stake up to about 650,000 shares, worth nearly $6 million at the current stock price. Hines' purchase wasn't as large, with the director acquiring 125,000 shares on the same day.
Image source: GNC Holdings.
Large insider purchases can signal to investors that management is confident in the company's prospects. But confidence alone won't fix GNC's problems. The company reported an abysmal holiday quarter earlier this month, with same-store sales tumbling and adjusted profits declining significantly. The dividend was also suspended in an effort to preserve cash.
Shares of GNC are down 75% since peaking in April of last year, even after Thursday's surge. While management having skin in the game is a positive, GNC's troubles are far from over.
Now what
GNC launched its One New GNC initiative late last year, which simplified pricing and launched new free and paid rewards programs. Moran expects these changes to have negative effects in the short term, but sees a return to profitable growth in the long run.
Insider purchases should never be the sole reason for buying a stock. In GNC's case, these purchases provide a small piece of good news following a string of negative developments. GNC faces severe challenges, and a turnaround is far from guaranteed.
10 stocks we like better than GNC HoldingsWhen investing geniuses David and Tom Gardner have a stock tip, it can pay to listen. After all, the newsletter they have run for over a decade, Motley Fool Stock Advisor, has tripled the market.*
David and Tom just revealed what they believe are the 10 best stocks for investors to buy right now... and GNC Holdings wasn't one of them! That's right -- they think these 10 stocks are even better buys.
Click here to learn about these picks!
*Stock Advisor returns as of February 6, 2017
Timothy Green has no position in any stocks mentioned. The Motley Fool has no position in any of the stocks mentioned. The Motley Fool has a disclosure policy.