Why Shares of Frack Sand Suppliers Continued Their Big Rally in December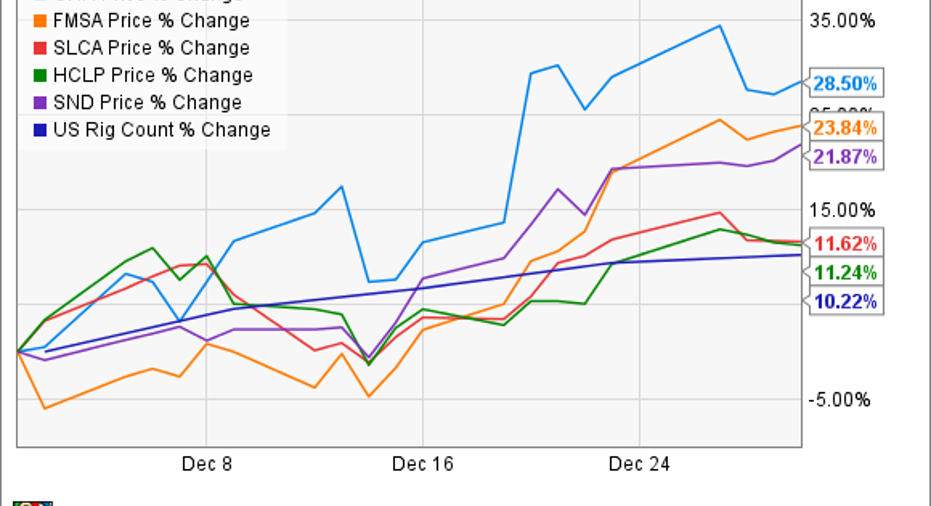 Image source: Getty Images.
What happened
2016 was the year for the return of frack sand stocks, and many of them capped off the end of the year with some big gains in December. Last month, shares of CARBO Ceramics (NYSE: CRR), Fairmount Santrol Holdings (NYSE: FMSA), U.S. Silica Holdings (NYSE: SLCA), Hi-Crush Partners (NYSE: HCLP), and freshly IPO'dSmart Sand(NASDAQ: SND) all posted double-digit gains.
So what
The rise in these stocks over the past month or so has much to do with the fact that drilling activity is still coming back to the oil patch. Last month, the total active land rigs in the U.S. rose 10% to a total of 658 rigs. That may not sound like much compared to the 1,900 or so rigs that were in the field as recently as 2014. It's a marketable improvement, however, from when the rig market bottomed out at 404 rigs -- the lowest in 150 years by some estimates -- back in May.
With more drilling comes more demand for frack sand, and that has been fueling this frack sand rise for some time. It also helps that many of these companies improved their balance sheets through either debt reduction or improving their cash positions in 2016. Getting to that better financial position, though, wasn't exactly pretty as many of these companies were forced to issue equity at very inopportune times.
CRR average diluted shares outstanding (quarterly) data by YCharts.
The one company in this group that put the proceeds of share issuance to better use was U.S. Silica, which used those proceeds to acquire a sand mine as well as a sand logistics business that will allow for better transportation options for clients. Smart Sand, which IPO'd in November, is a smaller operation, but it does serve some big-name clients. The proceeds from its IPO were used to pay down debt and redeem its common stock, though, and doesn't leave a lot of cash around to grow the business.
Now what
In the coming year, one thing that investors should be on the lookout for is the big increase in rig count across the U.S. A rising rig count will increase demand for sand, but it also increases the chances of the oil market returning to an oversupply condition. The ideal situation for frack sand producers would be for rig counts to increase modestly while oil prices hold steady or even see very small gains.
Many of these companies aren't without flaws, however. Fairmount Santrol and Smart Sand carry pretty large debt loads for their respective market caps; CARBO Ceramics' ceramic proppant offerings aren't finding traction in this quickly commoditized market; and Hi-Crush and U.S. Silica are struggling with turning stronger operations among its peers into profits. Perhaps as demand increases more in 2017, we will see improvements on this end, but know that an investment today in any of these stocks isn't necessarily a slam dunk.
10 stocks we like better than U.S. Silica Holdings When investing geniuses David and Tom Gardner have a stock tip, it can pay to listen. After all, the newsletter they have run for over a decade, Motley Fool Stock Advisor, has tripled the market.*
David and Tom just revealed what they believe are the 10 best stocks for investors to buy right now... and U.S. Silica Holdings wasn't one of them! That's right -- they think these 10 stocks are even better buys.
Click here to learn about these picks!
*Stock Advisor returns as of Nov. 7, 2016
Tyler Crowe has no position in any stocks mentioned.You can follow himat Fool.comor on Twitter@TylerCroweFool.The Motley Fool has no position in any of the stocks mentioned. The Motley Fool has a disclosure policy.