Why Shares of First Solar, Inc. Jumped 16% in February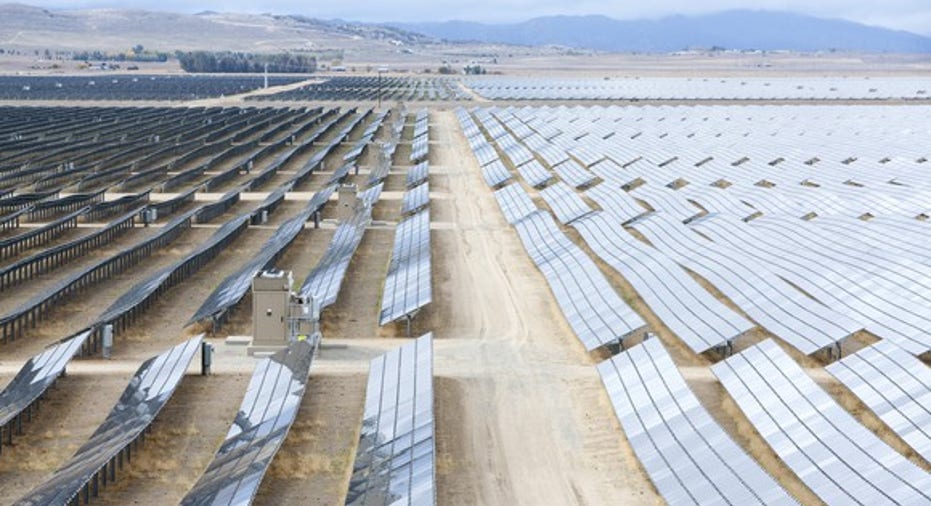 What happened
It was a strange month for First Solar, Inc. (NASDAQ: FSLR). The stock jumped 16% in February, according to data provided by S&P Global Market Intelligence, as solar stocks generally surged. But most of the gains have been given back early in March, so here's a look at what's going on.
So what
Most of First Solar's rise was really leading up to and shortly after SunPower's earnings report as the competitor made fairly bullish comments about the solar industry. There was a "rising tide lifting all boats" (or stocks, in this case) effect, and since First Solar and SunPower often trade together they both popped after SunPower's earnings.
Image source: First Solar.
But when First Solar's own earnings report came out, the reaction was quite different. The company reported a $6.92 loss per share in the fourth quarter, driven by one-time restructuring charges, and management actually lowered 2017 GAAP profit guidance because of a delay in a project sale. None of these charges or the outlook was really surprising given the fact that most of it was disclosed previously, which is one reason shares recovered most of their losses shortly after the earnings report. And as I discussed in my earnings recap, the company is making solid progress on upgrading its operations to new solar technology.
The drop early in March has been a slide that's affected all solar shares. And in many ways it appears all solar stocks are linked together for the time being.
Now what
As much as shares have moved lately, I don't think there's much reason to change the way you feel about First Solar after the past month. The company announced a few supply agreements, which is business as usual, but we won't really know where the company stands until the Series 6 product starts rolling off the production line in 2018. And it could be a long and tumultuous wait for investors to get there.
10 stocks we like better than First SolarWhen investing geniuses David and Tom Gardner have a stock tip, it can pay to listen. After all, the newsletter they have run for over a decade, Motley Fool Stock Advisor, has tripled the market.*
David and Tom just revealed what they believe are the 10 best stocks for investors to buy right now... and First Solar wasn't one of them! That's right -- they think these 10 stocks are even better buys.
Click here to learn about these picks!
*Stock Advisor returns as of February 6, 2017
Travis Hoium owns shares of First Solar. The Motley Fool has no position in any of the stocks mentioned. The Motley Fool has a disclosure policy.