Why Shares of FireEye Gained 10.5% in November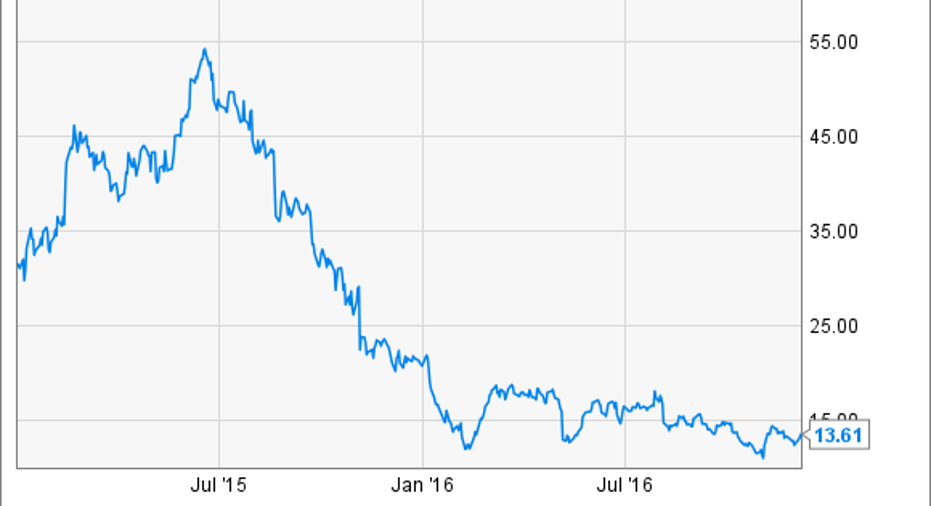 Image source: FireEye.
What happened
Shares of cybersecurity company FireEye (NASDAQ: FEYE) gained 10.5% in November, according to data provided byS&P Global Market Intelligence. The main driver was FireEye's third-quarter report, which beat analyst estimates on all fronts.
So what
FireEye stock has been tumbling since mid-2015, down nearly 75% from its peak even including November's surge. The company is wildly unprofitable, but until recently, it was growing revenue at such a rapid pace that investors didn't care. Revenue growth has slowed in recent quarters, a development that brought the stock's previous lofty valuation into question.
FireEye's third-quarter report featured the slowest pace of revenue growth in its history as a public company. Revenue rose just 12.5% year over year, a far cry from the 45% growth it reported during the third quarter of 2015. But this number was better than analysts expected.
Non-GAAP earnings per share -- a loss of $0.18 -- also beat analyst expectations. The company is aiming to slash costs, announcing a major layoff earlier this year, and the first signs of progress on that front showed up in the company's third-quarter results. FireEye's days of rapid growth may be over, but investors reacted positively to the company's newfound focus on the bottom line.
FireEye expects to reach non-GAAP profitability by the fourth quarter of 2017, with positive free cash flow for the full year. These targets represent a stark shift from the past, when FireEye aimed to grow revenue as quickly as possible without regard for ballooning costs. With FireEye now on the path to profitability, investors pushed up the stock price in November.
Now what
The market for cybersecurity products and services is expected to grow by more than 10% annually through 2021, according to MarketsAndMarkets, putting FireEye in a great position to benefit. The company's massive losses were bound to catch up with it eventually, and now it's pursuing a more balanced approach to growth. FireEye CEO Kevin Mandia expects the company's future to be bright despite its current issues, touting two new products in the third-quarter report anticipated to drive growth:
FireEye stock gained another 6% during the first seven days of December, propelled higher by a broad market rally. To keep the gains coming, the company will need to follow through on its promise to reach profitability sooner rather than later.
10 stocks we like better than FireEye When investing geniuses David and Tom Gardner have a stock tip, it can pay to listen. After all, the newsletter they have run for over a decade, Motley Fool Stock Advisor, has tripled the market.*
David and Tom just revealed what they believe are the 10 best stocks for investors to buy right now... and FireEye wasn't one of them! That's right -- they think these 10 stocks are even better buys.
Click here to learn about these picks!
*Stock Advisor returns as of Nov. 7, 2016
Timothy Green has no position in any stocks mentioned. The Motley Fool owns shares of and recommends FireEye. Try any of our Foolish newsletter services free for 30 days. We Fools may not all hold the same opinions, but we all believe that considering a diverse range of insights makes us better investors. The Motley Fool has a disclosure policy.