Why Shares of Exar Corp. Jumped Today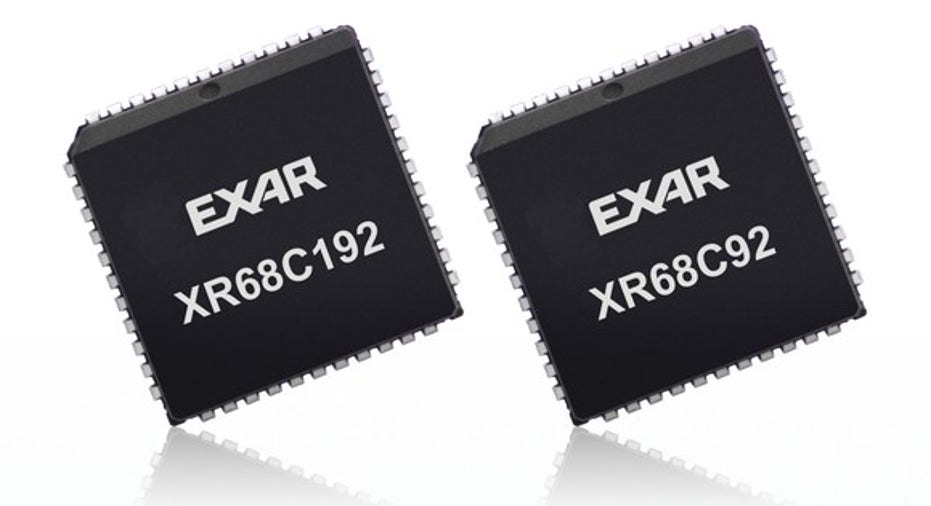 What happened
Shares of Exar Corp. (NYSE: EXAR), a designer of analog mixed-signal integrated circuits, surged on Wednesday after the company announced that it had agreed to be acquired by MaxLinear (NYSE: MXL). Exar stock was up 22% at noon, while MaxLinear stock had risen 3.4%.
So what
MaxLinear has agreed to pay $13 in cash for each share of Exar, representing a 22% premium over the stock's closing price on March 28. Net of the cash on Exar's balance sheet, the deal is valued at $472 million. MaxLinear will fund the acquisition with cash from its balance sheet and a $425 million term loan.
Image source: Exar Corp.
MaxLinear CEO Kishore Seendripu expects the deal to drive earnings and free cash flow higher:
While MaxLinear didn't provide details on the exact effects the deal will have on earnings and free cash flow, the company does expect to achieve $15 million of annualized synergies within 12 months of closing.
Now what
Exar CEO Ryan Benton believes that the combination will benefit both its customers and employees: "MaxLinear's commitment to and its proven track record of providing its customers with innovative and differentiated high performance analog, mixed-signal and RF technology will present exciting new opportunities for our employees, customers and supply chain."
A tender offer will commence within the next 20 business days, with 20% of Exar shares already in support of the deal. The companies anticipate the deal to close during the second quarter of 2017.
10 stocks we like better than ExarWhen investing geniuses David and Tom Gardner have a stock tip, it can pay to listen. After all, the newsletter they have run for over a decade, Motley Fool Stock Advisor, has tripled the market.*
David and Tom just revealed what they believe are the 10 best stocks for investors to buy right now... and Exar wasn't one of them! That's right -- they think these 10 stocks are even better buys.
Click here to learn about these picks!
*Stock Advisor returns as of February 6, 2017
Timothy Green has no position in any stocks mentioned. The Motley Fool has no position in any of the stocks mentioned. The Motley Fool has a disclosure policy.