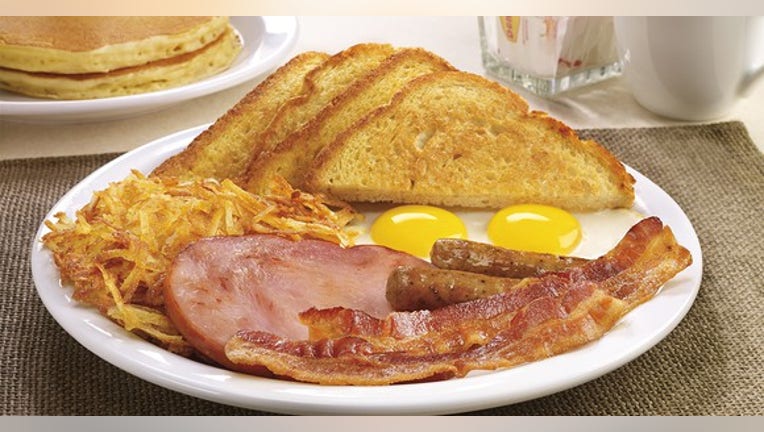 What happened
Shares of Denny's Corp. (NASDAQ: DENN) jumped on Thursday after the company reported better-than-expected fourth-quarter results. Positive same-store sales growth and an operating margin increase was enough to send the stock up 13% by 11:45 a.m. EST.
So what
Denny's reported fourth-quarter revenue of $129.6 million, up 4.5% year over year and less than $1 million higher than the average analyst estimate. Domestic systemwide same-store sales rose by 0.5%, with a 0.1% increase at company restaurants and a 0.6% increase at franchised restaurants. Denny's acquired one franchised restaurant, opened 12 new franchised restaurants, and closed seven franchised restaurants during the quarter.
Image source: Denny's.
Non-GAAP EPS came in at $0.17, up from $0.11 during the prior-year period and $0.04 better than analysts were expecting. GAAP EPS was $0.15, up from $0.11. Company stores managed an operating margin of 17.5%, up 230 basis points year over year, while Denny's franchise operations produced an operating margin of 72.1%, up 220 basis points. A lower tax rate also helped boost net income.
CEO John Miller summed up the company's results:
Now what
Denny's expects same-store sales growth at company and franchised restaurants between 0% and 2% in 2017, with net restaurant growth of 10 to 20 units helping to drive revenue between $523 million and $532 million. Company restaurant margins are also expected to remain high, with a guidance range of 17.5% to 18%.
Denny's fourth-quarter results and guidance were both solid, particularly given the difficulties other restaurant chains are having. Investors viewed even sluggish same-store sales growth positively, and the significant earnings beat was icing on the cake.
10 stocks we like better than Denny'sWhen investing geniuses David and Tom Gardner have a stock tip, it can pay to listen. After all, the newsletter they have run for over a decade, Motley Fool Stock Advisor, has tripled the market.*
David and Tom just revealed what they believe are the 10 best stocks for investors to buy right now... and Denny's wasn't one of them! That's right -- they think these 10 stocks are even better buys.
Click here to learn about these picks!
*Stock Advisor returns as of February 6, 2017
Timothy Green has no position in any stocks mentioned. The Motley Fool has no position in any of the stocks mentioned. The Motley Fool has a disclosure policy.