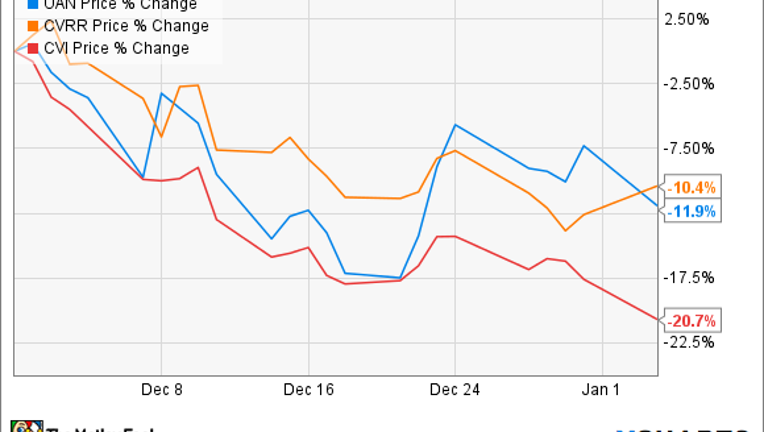 What: Shares of all three companies in the CVR family -- CVR Partners , CVR Energy , and CVR Refining -- lost 20.7% 11.9%, and 10.7%, respectively in December, following fears that CVR Parnters and CVR Refining's distributions will be lower in the coming quarters.
So what: One thing to keep in mind is that both CVR Partners and CVR Refining are variable-rate master limited partnerships, which means the payout to investors changes from quarter to quarter based on the amount of cash the company generates. Since the end of the third quarter, shares of the two companies have been declining in anticipation that the distribution from the fourth quarter's earnings will be lower than the prior quarter's. That's why CVR Partners and CVR Refining's shares have distribution yields of 19.9% and 16.2%, respectively.
The reason these are likely to happen is that CVR Refining's Coffeyville, Kan., refinery started the quarter under maintenance and was running at partial capacity until mid-November, so the lower throughput volumes will certainly affect revenue. Meanwhile, CVR Partners is still trying to work out the kinks of its acquisition of Rentech Nitrogen Partners .
CVR Energy has seen the worst of it because it's the parent company of the two partnerships, so it's levered to the success of both partnerships. With distirbutions from both partnerships expected to be lower, it will really cut into earnings for CVR Energy.
Now what: One of the challenging things about investing in companies that pay variable-rate dividends or distributions is to not get nervous when payments decline from quarter to quarter. Shying away from CVR Partners until it has completed its acquisition of Rentech Nitrogen is understandable, since Rentch is pretty well levered compared with CVR Partners and the prices for nitrogen fertilizer are at their lowest in a couple of years. That said, investors looking over the long haul might look at the discount Wall Street gives to these variable distribution payers as an opportunity to add a strong, but not consistent, income payer.
The article Why Shares of CVR Energy, CVR Partners, and CVR Refining All Lost More Than 10% in December originally appeared on Fool.com.
Tyler Crowe has no position in any stocks mentioned.You can follow him at Fool.comor on Twitter@TylerCroweFool.The Motley Fool has no position in any of the stocks mentioned. Try any of our Foolish newsletter services free for 30 days. We Fools may not all hold the same opinions, but we all believe that considering a diverse range of insights makes us better investors. The Motley Fool has a disclosure policy.
Copyright 1995 - 2016 The Motley Fool, LLC. All rights reserved. The Motley Fool has a disclosure policy.