Why Shares of Control4 Jumped 20% on Friday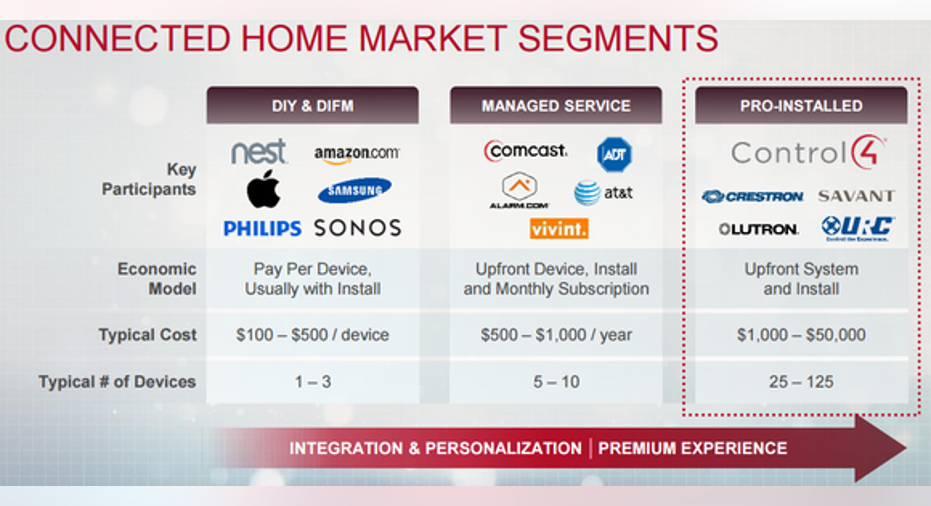 What
Shares of Control4 (NASDAQ: CTRL), a leading provider of automation and networking systems for homes and businesses that boasts products to personalize control of music, video, lighting, comfort, security, and communications as an entire premium smart home system, are soaring 20% higher on Friday as of 1:40 p.m. EST.
So what
The surge in price was fueled by the company's better-than-expected fourth-quarter results. Revenue for the fourth quarter checked in at $57.4 million, a 34% increase year over year and higher than analysts' estimates of $54.5 million. Adjusted earnings per share for the fourth quarter reached $7.8 million, or $0.31 per share -- well ahead of the prior year's $0.07 per share result and above analysts' estimates of $0.24 per share.
Mark Novakovich, chief financial officer of Control4, had this to say in a press release:
Now what
For many investors, the line between company products in the smart home is a blurry one, so here's a great graphic that shows how Control4 fits into the high-end segment.
Image source: Control4 investor presentation.
The company boasts a sizable footprint in 91 countries and has a network of nearly 5,000 retailers and distributors. Going forward, management estimated toward the end of 2016 that it had penetrated roughly 1.4% of the roughly 14.1 million U.S. households with annual income topping $150,000 -- if it can continue to increase its market penetration, strong quarters like this one will follow.
10 stocks we like better than Control4When investing geniuses David and Tom Gardner have a stock tip, it can pay to listen. After all, the newsletter they have run for over a decade, Motley Fool Stock Advisor, has tripled the market.*
David and Tom just revealed what they believe are the 10 best stocks for investors to buy right now...and Control4 wasn't one of them! That's right -- they think these 10 stocks are even better buys.
Click here to learn about these picks!
*Stock Advisor returns as of February 6, 2017.
Daniel Miller has no position in any stocks mentioned. The Motley Fool has no position in any of the stocks mentioned. The Motley Fool has a disclosure policy.