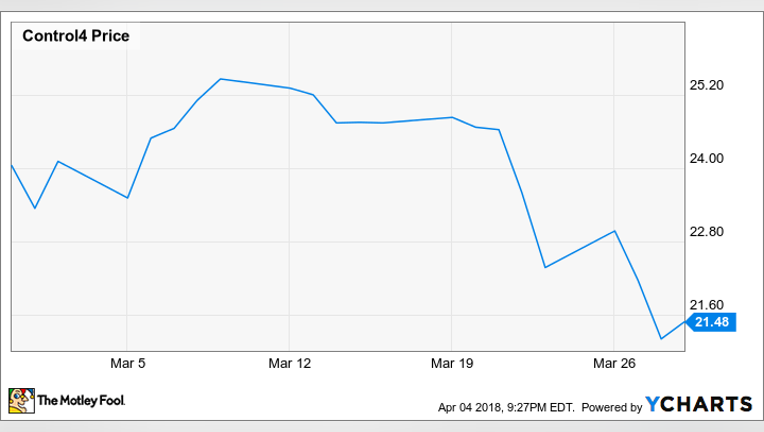 What happened
Control4 (NASDAQ: CTRL) stock fell 10.6% in March, according to data provided by S&P Global Market Intelligence .
The smart-home company's shares saw substantial sell-offs following the announcement of a partnership with business process management provider Simply Reliable and the publication of unfavorable ratings coverage from BidaskClub.
So what
Simply Reliable made an announcement on March 22 that Control4 dealers would begin using its software for proposal sharing, deposit collection, and to create installation drawings. Control4 shares fell roughly 5% in the day of trading that followed the announcement of the partnership.
The next big pricing catalyst for Control4 shares appears to have been BidaskClub lowering its rating on the stock from a "sell" to a "strong sell" in a note published on March 28. The stock also saw a number of favorable analyst notes last month, with Imperial Capital, Zacks Investment Research, and Raymond James Financial giving the company positive ratings, but BidaskClub's coverage seems to have had the biggest impact on the company's valuation last month.
Now what
Control4 still has a lot of room for growth in the high-end smart-home space. The company estimates that there are roughly 17.2 million households in the U.S. with an annual income of at least $150,000 and that its currently serving only 2% of that market.
The focus on the high-end market suggests that Control4 will have fewer competitors and better standing to maintain pricing strength as the connected-home category grows. Shares trade at roughly 18 times this year's expected earnings.
10 stocks we like better than Control4When investing geniuses David and Tom Gardner have a stock tip, it can pay to listen. After all, the newsletter they have run for over a decade, Motley Fool Stock Advisor, has tripled the market.*
David and Tom just revealed what they believe are the 10 best stocks for investors to buy right now... and Control4 wasn't one of them! That's right -- they think these 10 stocks are even better buys.
Click here to learn about these picks!
*Stock Advisor returns as of April 2, 2018
Keith Noonan has no position in any of the stocks mentioned. The Motley Fool owns shares of Control4. The Motley Fool has a disclosure policy.