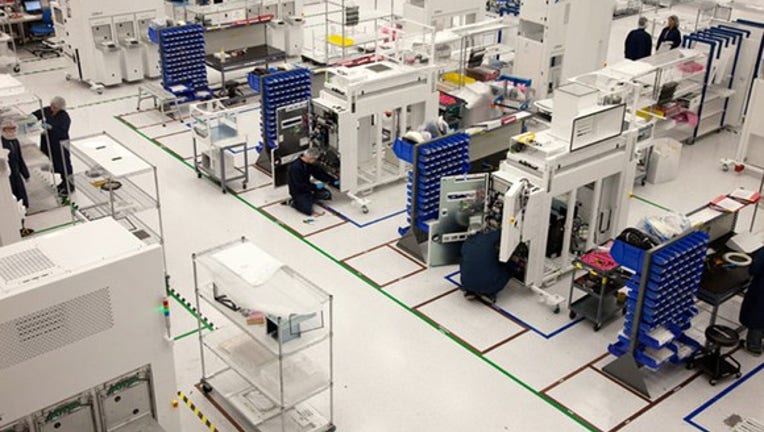 Image source: Celestica.
What happened
Shares of supply chains solutions provider Celestica (NYSE: CLS) jumped on Friday after the company reported its fourth-quarter results. Celestica beat analyst estimates for both revenue and earnings, and exceeded its own guidance. At 11:15 a.m., the stock was up about 11%.
So what
Celestica reported fourth-quarter revenue of $1.62 billion, up 7% year over year and $70 million higher than the average analyst estimate. The communications end market accounted for 44% of revenue, up from 38% during the fourth quarter of 2015. The diversified end market was flat in terms of revenue, with its share of total revenue dropping three percentage points, to 27%.
Non-IFRS earnings per share (EPS) came in at $0.41, up from $0.27 during the prior-year period and $0.09 above analyst expectations. On an IFRS (International Financial Reporting Standards) basis, EPS rose to $0.15, up from $0.08. A net benefit of $0.07 per share from income taxes partially offset a negative $0.17 per-share impact from restructuring related the Celestica's decision to exit the solar panel manufacturing business.
Now what
Celestica CEO Rob Mionis summed up the company's progress in 2016:
Celestica expects to produce between $1.4 billion and $1.5 billion of revenue during the first quarter of 2017, along with non-IFRS EPS in the range of $0.24 to $0.30. IFRS earnings will be negatively impacted by between $0.11 and $0.17 per share due to stock-based-compensation expense, amortization of intangible assets, and further restructuring charges.
10 stocks we like better than Celestica When investing geniuses David and Tom Gardner have a stock tip, it can pay to listen. After all, the newsletter they have run for over a decade, Motley Fool Stock Advisor, has tripled the market.*
David and Tom just revealed what they believe are the 10 best stocks for investors to buy right now... and Celestica wasn't one of them! That's right -- they think these 10 stocks are even better buys.
Click here to learn about these picks!
*Stock Advisor returns as of January 4, 2017
Timothy Green has no position in any stocks mentioned. The Motley Fool has no position in any of the stocks mentioned. The Motley Fool has a disclosure policy.