Why Shares of Arcos Dorados Holdings Inc. Surged 28% in November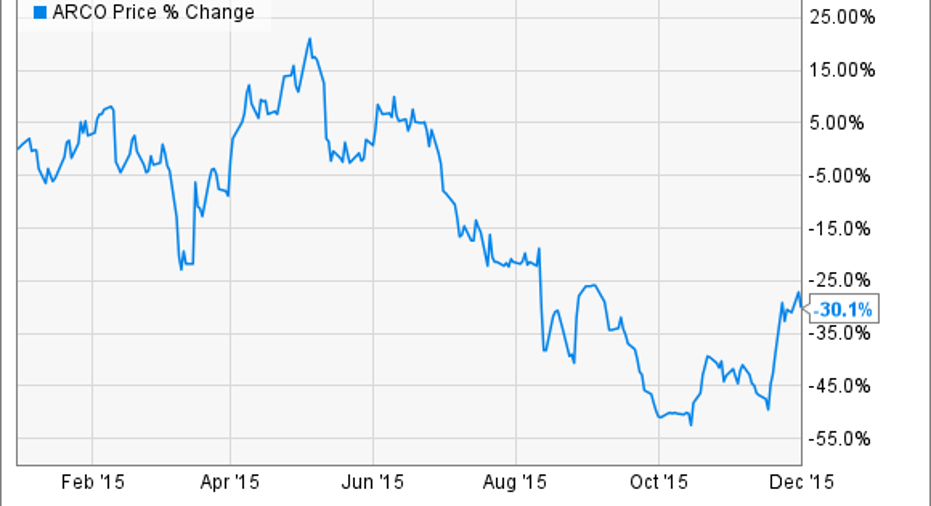 Image source: Arcosdorados.com.
What:Shares ofArcos Dorados Holdings climbed 27.9% during November, according toS&P Capital I.Q.data. It's been a tumultuous year for the world's largestMcDonald'sfranchisee, as is apparent from the chart below:
To understand Arcos' November climb, it's necessary to review the forces pummeling the company's stock year to date. Arcos is enduring an extremely difficult environment in its largest market, Brazil. In addition to high inflation, which is causing Brazil's middle class to think twice about eating out, the country's economy is retracting rather than expanding. And a strong U.S. dollar versus Latin American currencies has severely affected Arcos' dollar-denominated profits.
On top of these worries, Arcos is highly leveraged, with a current "net indebtedness to EBITDA" ratio of 2.82. This means that Arcos' borrowings are nearly three times the size of its annual earnings before interest, taxes, depreciation, and amortization.
This debt has proved problematic in that a substantial portion -- nearly 25% of total company debt -- has been issued in the form of Brazilian real-denominated bonds. In September, Standard & Poor's rating agency downgraded Brazil's sovereign credit rating to "junk" status. This caused Arcos Dorados stock to plummet more than 32%, as investors worried over the rising dollar financing costs of the bonds.
So what: Arcos announced a recapitalization plan in early November, which went a long way toward boosting the perception around the company's long-term viability. The company will use international real estate firm CB Richard Ellis to sell or redevelop a portion of its Mexican restaurant locations. Monetizing this real estate is expected to raise $200 million.
Arcos will also refranchise, or sell to its own franchisees, roughly 20 company-operated restaurants in Brazil. This action is expected to yield another $50 million.
Both of these initiatives should be completed by 2017 and management will use the proceeds to pay down company debt. Arcos has also announced its intention to refinance next year's maturing Brazilian real-denominated borrowings, which as of Sept. 30, 2015, have a total recorded value of $171.3 million out of a total company debt figure of $668.4 million. In September, the relief surrounding all of these collective steps boosted company stock considerably.
Now what:The announced monetization strategy will probably alleviate the financial pressures caused by company borrowings in the near term. However, it will potentially be a long climb out of the current doldrums for Arcos Dorados since the company is so reliant on Brazilian revenue. Even though Brazil sales fell 32.3% during the third quarter of 2015, they still made up more than 41% of total Arcos' revenue -- a significant driver of the company's $36 million third-quarter loss.Investors wanting to build a position in the "ARCOS" ticker should move slowly and patiently.
The article Why Shares of Arcos Dorados Holdings Inc. Surged 28% in November originally appeared on Fool.com.
Asit Sharma has no position in any stocks mentioned. The Motley Fool owns shares of Arcos Dorados. Try any of our Foolish newsletter services free for 30 days. We Fools may not all hold the same opinions, but we all believe that considering a diverse range of insights makes us better investors. The Motley Fool has a disclosure policy.
Copyright 1995 - 2015 The Motley Fool, LLC. All rights reserved. The Motley Fool has a disclosure policy.