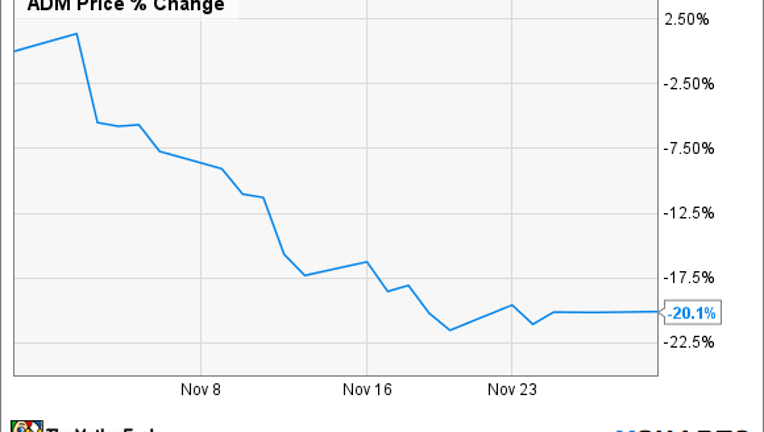 What: Shares of Archer Daniels Midland Company have been up and down significantly in last few months, culminating with a steady 20.1% decline during November, according to Capital IQ data. A weaker-than-expected third-quarter report triggered the drop early in the month, but investor expectations have waned even further since then.
So what: In its Nov. 3 report, Archer Daniels Midland said third-quarter revenue dropped 9% and net income dropped 66%, but that was just the start of the drop in the stock.
Over the past 30 days, analysts have slashed their fourth-quarter earnings estimates from $0.94 per share to $0.75 per share, and their 2016 estimates from $3.36 to $3.10 per share. Pressure on commodities in general, and ethanol in particular, doesn't appear likely to subside any time soon.
Now what: This is really a recalibration of Archer Daniels Midland stock to the conditions present in the market. Some of those conditions, like the price drop for ethanol, probably reflect new normals for the company, but it remains a profitable business in the important food industry. With shares trading at 11.5 times forward estimates and offering a dividend yield of 3.1% at the current stock price, I think there's good value here. But investors need to take a long-term view, because commodity markets can be fickle and it might take years to see a significant improvement in Archer Daniels Midland's operations.
The article Why Shares of Archer Daniels Midland Company Plunged in November originally appeared on Fool.com.
Travis Hoium has no position in any stocks mentioned. The Motley Fool has no position in any of the stocks mentioned. Try any of our Foolish newsletter services free for 30 days. We Fools may not all hold the same opinions, but we all believe that considering a diverse range of insights makes us better investors. The Motley Fool has a disclosure policy.
Copyright 1995 - 2015 The Motley Fool, LLC. All rights reserved. The Motley Fool has a disclosure policy.