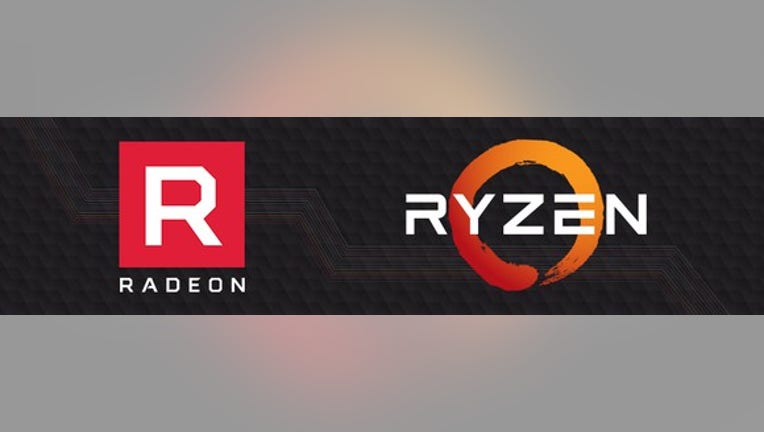 Image source: AMD.
What happened
Shares of Advanced Micro Devices (NASDAQ: AMD) soared on Wednesday after the company reported fourth-quarter results that bested analyst expectations. AMD's guidance called for continued revenue growth during the first quarter, and the company confirmed that its highly anticipated Ryzen CPU will be launching in early March. At 11:15 a.m. EST, the stock was up about 12%.
So what
AMD reported fourth-quarter revenue of $1.11 billion, up 15% year over year and about $40 million higher than the average analyst estimate. Revenue dropped 15% compared to the third quarter due to seasonality in the semi-custom business, which is dominated by game console SoCs.
The computing and graphics segment grew revenue by 28% year over year, to $600 million, driven by higher GPU sales. AMD launched its Polaris line of mainstream graphics cards in mid-2016. Ryzen and Vega, AMD's upcoming high-end GPU scheduled for the second quarter, should continue to drive growth in this segment in 2017.
The semi-custom segment grew revenue to $506 million, up 4% year over year. Sales slumped 39% compared to the third quarter, which is the peak period for the business each year. A $47 million segment operating profit offset a $21 million operating loss in the computing and graphics segment.
Non-GAAPearnings per share (EPS) came in at a loss of $0.01, an improvement compared to a loss of $0.10 during the prior-year period and $0.01 better than analysts were expecting.
Now what
AMD expects its revenue to grow and its non-GAAP EPS to turn positive in 2017. Revenue is expected to grow by 18% year over year during the first quarter, driven by Polaris, as well as a contribution from Ryzen.
Details are still thin on both Ryzen and Vega, but more information should be revealed as we get closer to launch. If priced aggressively, both products could make a big impact on their respective markets, helping AMD win market share from Intel and NVIDIA. If AMD can avoid its habit of over promising and under delivering, 2017 could be a very good year for the company.
10 stocks we like better than Advanced Micro Devices When investing geniuses David and Tom Gardner have a stock tip, it can pay to listen. After all, the newsletter they have run for over a decade, Motley Fool Stock Advisor, has tripled the market.*
David and Tom just revealed what they believe are the 10 best stocks for investors to buy right now... and Advanced Micro Devices wasn't one of them! That's right -- they think these 10 stocks are even better buys.
Click here to learn about these picks!
*Stock Advisor returns as of January 4, 2017
Timothy Green has no position in any stocks mentioned. The Motley Fool owns shares of and recommends Nvidia. The Motley Fool recommends Intel. The Motley Fool has a disclosure policy.