Why Shares of Alaska Air, JetBlue, and Hawaiian Holdings Flew Higher in November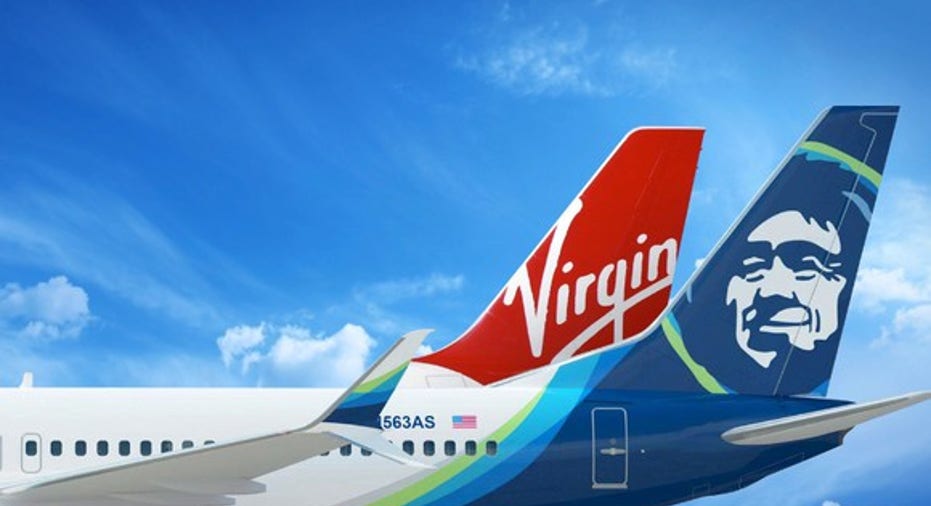 U.S. airline stocks soared in November, as investors decided that economic growth might increase under the incoming Trump administration. The revelation that Warren Buffett's Berkshire Hathaway had invested in several airline stocks also drove renewed interest in the sector.
Midsize airlines like Alaska Air Group (NYSE: ALK), JetBlue Airways (NASDAQ: JBLU), and Hawaiian Holdings (NASDAQ: HA) didn't post the biggest gains in the sector last month. But shares of all three companies still rose by 14% to 15% during November, according to data from S&P Global Market Intelligence:
Alaska Air Group, JetBlue Airways, and Hawaiian Holdings November stock performance. Data by YCharts.
Alaska Air's unit-revenue trend starts to improve in October
Aside from the broader election-related market rally, Alaska Air shares surged higher in November based on signs that unit revenue has finally bottomed out.
Over the past two years, Alaska has reported a series of steep declines in revenue per available seat mile (RASM). A combination of huge increases in competitive capacity and Alaska's own growth led to oversupply in Seattle, the carrier's main hub market. Last quarter, Alaska's RASM fell 4.4% year over year; on a year-to-date basis, RASM has slumped 5.6%.
By contrast, on Nov. 14, Alaska Air revealed that RASM slipped just 1.1% year over year in October. That was particularly impressive because many other airlines said that unit revenue was weak in October due to the timing of various holidays. With competitive capacity growth set to slow dramatically next spring, Alaska's unit revenue could return to growth soon.
Additionally, reports indicating that Alaska Air was close to completing its acquisition of Virgin America began to circulate on Nov. 18. The deal wasn't consummated as expected in November, but U.S. regulators approved the merger earlier this month, keeping the companies on track to close by year-end.
Alaska Air's acquisition of Virgin America is on track to close soon. Image source: Alaska Airlines.
JetBlue also sees a unit-revenue recovery
JetBlue also reported a relatively good October unit-revenue result last month. JetBlue estimates that RASM fell 3% year over year in October, including a 2-percentage-point negative impact from Hurricane Matthew, which disrupted Columbus Day weekend travel to and from Florida.
This was better than JetBlue's original forecast from late October that RASM could decline by 3.5% to 4% for the month. As was the case for Alaska Air, JetBlue's unit-revenue trajectory has improved dramatically in the past few months. Through the first three quarters of 2016, RASM had declined 6.2% year over year.
JetBlue plans to lift unit revenue by adding its Mint premium service to a slew of routes. Image source: JetBlue Airways.
JetBlue plans to expand its Mint premium transcontinental service dramatically over the next few quarters. Mint service has driven strong unit-revenue growth on the routes where it has been deployed thus far, so the continued rollout of Mint should provide a nice lift to RASM next year.
Hawaiian Holdings stays strong
Unlike Alaska Air and JetBlue Airways, Hawaiian Holdings wasn't hit with big unit-revenue declines earlier this year. Through September, its RASM increased 0.7% year over year. The company expects RASM to continue growing this quarter, driven by rising load factors and strong yields.
While Hawaiian Holdings wasn't on Warren Buffett's shopping list, last month it was named a top pick within the airline sector by analysts at Imperial Capital. So far, this title seems well deserved, as Hawaiian significantly boosted its Q4 revenue guidance this week.
More gains ahead?
While the top four U.S. airlines have received the bulk of investor attention lately, midsize carriers like Alaska, JetBlue, and Hawaiian appear to be delivering better results. Hawaiian Airlines has been the only airline to post consistent RASM growth recently, while Alaska Air and JetBlue Airways are both on track to get RASM rising again in the first half of 2017.
Furthermore, these midsize airlines trade at a negligible valuation premium over their larger rivals, despite having higher margins and greater growth potential. That's a recipe for continued share-price gains in the years ahead.
10 stocks we like better than JetBlue Airways When investing geniuses David and Tom Gardner have a stock tip, it can pay to listen. After all, the newsletter they have run for over a decade, Motley Fool Stock Advisor, has tripled the market.*
David and Tom just revealed what they believe are the 10 best stocks for investors to buy right now... and JetBlue Airways wasn't one of them! That's right -- they think these 10 stocks are even better buys.
Click here to learn about these picks!
*Stock Advisor returns as of Nov. 7, 2016
Adam Levine-Weinberg owns shares of Alaska Air Group, Hawaiian Holdings, and JetBlue Airways and is long January 2017 $17 calls on JetBlue Airways and short January 2017 $50 calls on Hawaiian Holdings. The Motley Fool owns shares of and recommends Berkshire Hathaway (B shares). The Motley Fool recommends JetBlue Airways.
Try any of our Foolish newsletter services free for 30 days. We Fools may not all hold the same opinions, but we all believe that considering a diverse range of insights makes us better investors. The Motley Fool has a disclosure policy.