Why Shake Shack Inc Stock Jumped 15% in November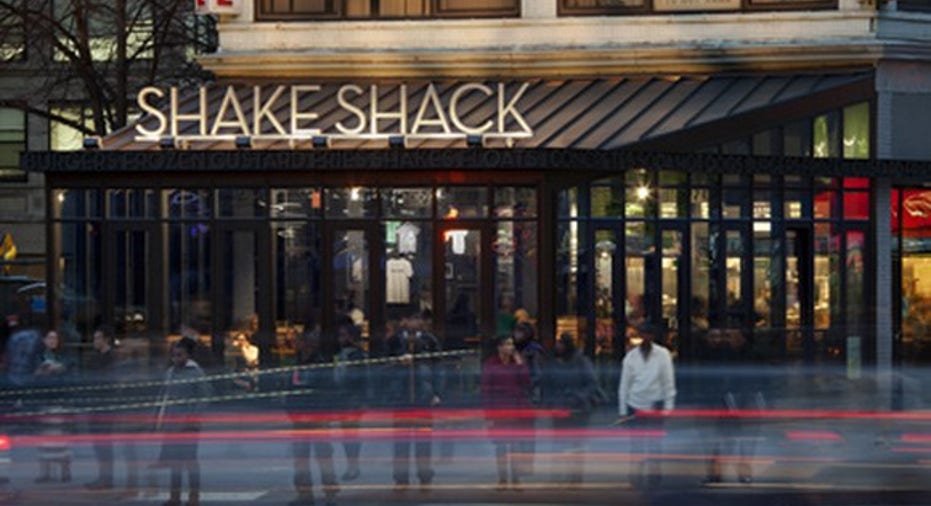 Image Source: Shake Shack.
What happened
Shares ofShake Shack Inc(NYSE: SHAK) spiked last month on a strong third-quarter earnings report, gaining 15% according to data from S&P Global Market Intelligence. As the chart below shows, the bulk of the month's gains came on November 10 after the earnings report came out, with the stock jumping 10.7% that day.
So what
For the seventh time in a row, or every report since its IPO, the better-burger chain beat earnings estimates, posting a per-share profit of $0.15, which was a penny better than expectations. Its profit margin narrowed and comparable sales growth slowed to 2.9%, but overall revenue, which grew 40%, was better than expected thanks to accelerated store openings. Management had indicated previously that profit margin would decline as labor costs went up, and had forecast slowing comparable sales.
CEO Randy Garutti said the company "delivered another solid quarter of results," and noted that Shake Shack opened its 100th restaurant in the quarter and had its first $1 million sales day at company-operated Shacks.
Now what
Garutti also expressed enthusiasm about upcoming store openings, as well as the company's new app, which allows remote ordering at a handful of locations.
The market seemed most excited about elevated guidance based on accelerated store openings, as management now sees revenue of $264-$265 million, up from $253-$256 million, and expects 19 new stores this year instead of the 18 it expected previously.
Preliminary 2017 guidance was also better than expected -- the company sees revenue of $348-$352 million, representing 32% growth from this year, on 2-3% comparable sales growth. It also projects 21-22 new store openings, a sign that is real estate pipeline continues to improve.
The new-store acceleration seemed to be the reason for the stock surge, as the company's ability to open new locations should be the key determinant in its growth rate for the foreseeable future. While its profit margin guidance was more modest, the company is executing on its growth plan effectively and continuing to beat expectations. The stock should move higher as long as Shake Shack keeps up that pattern.
10 stocks we like better than Shake Shack When investing geniuses David and Tom Gardner have a stock tip, it can pay to listen. After all, the newsletter they have run for over a decade, Motley Fool Stock Advisor, has tripled the market.*
David and Tom just revealed what they believe are the 10 best stocks for investors to buy right now... and Shake Shack wasn't one of them! That's right -- they think these 10 stocks are even better buys.
Click here to learn about these picks!
*Stock Advisor returns as of Nov. 7, 2016
Jeremy Bowman owns shares of Shake Shack. The Motley Fool is short Shake Shack. Try any of our Foolish newsletter services free for 30 days. We Fools may not all hold the same opinions, but we all believe that considering a diverse range of insights makes us better investors. The Motley Fool has a disclosure policy.