Why Shake Shack Inc. Shareholders Have Nothing to Worry About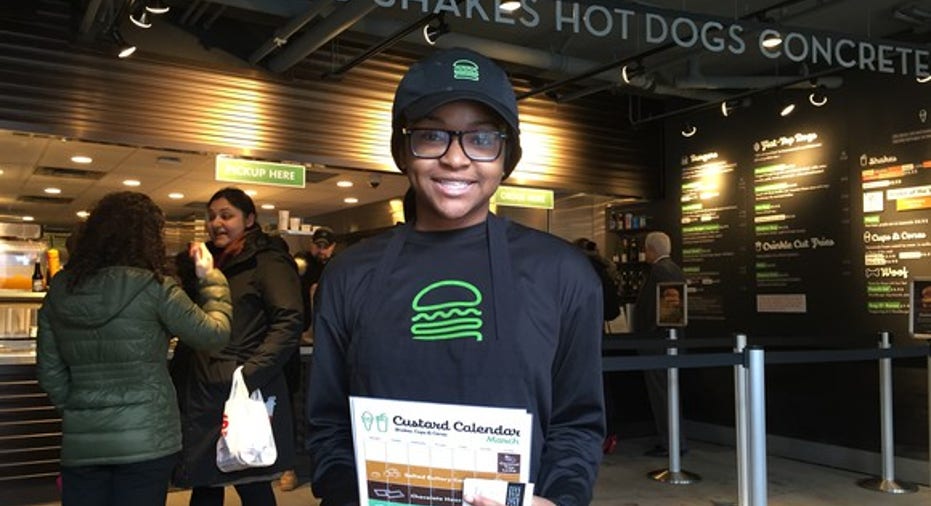 Shares of Shake Shack (NYSE: SHAK)are clawing their way out of the doghouse.Wedbush analyst Nick Setyan kicked off this week by upgrading the stock. He's not necessarily bullish. Setyan is just no longer bearish, boosting his rating from underperform to neutral.
The stock has taken a hit since reporting mixed quarterly results earlier this month, but this isn't merely an opportunistic valuation call. Setyan is raising his price target from $30 to $33.
Investors weren't happy to see comps rise by a mere 1.6% during the holiday quarter, resulting in Shake Shack landing at the low end of its earlier outlook for all of 2016. When you're Shake Shack, commanding the "better burger" hype and the lofty valuation that typically accompanies a hot IPO means living up to heightened expectations. Shake Shack failed to deliver in its latest quarter, but that could still mean big gains for investors nibbling away at the stock at current levels.
Image source: Shake Shack.
Custard and mustard
Things may not seem so rosy for Shake Shack at the moment, but it's actually in better shape than bears probably think. The stock may be trading two-thirds below its all-time high set in the springtime of 2015, but it's been valuation concerns checking the stock on the way down over the past two years. Its fundamentals remain solid. Revenue continues to grow at a brisk pace, up 40% last year as heady expansion and consistently positive comps keep the top line humming along. Shake Shack went from 84 locations to 114 units just last year. The midpoint of its guidance for 2017 translates into 31% top-line growth this year.
Profits are also moving in the right direction. Adjusted earnings per share rose from $0.32 in 2015 to $0.46 in 2016. Analysts see that growing to $0.51 this year and $0.63 come next year.
At its stock's peak 22 months ago the stock was trading at more than 300 times what it would go on to earn in 2015. That multiple is down to 63 now. Shake Shack's price-to-sales multiple has also gone from nearly 13 at its peak based on 2015's revenue of $190.6 million to just 2.3 times this year's top-line guidance.
No one's going to argue that a stock at 63 times this year's earnings -- and 51 times next year's target -- is cheap, but it is more than reasonable given Shake Shack's high ceiling for expansion and consistent growth at the unit level. A falling stock price and rising fundamentals will work wonders for your valuation. Yes, the shares hit yet another all-time low last week, but it bounced back the last time it hit these levels last year. Shake Shack is getting bigger, stronger, and more profitable. It will always command a healthy market premium until it runs out of expansion or comps turn negative for a long stretch of time. Shake Shack is a better stock than its chart suggests. The future is brighter for investors than its past.
10 stocks we like better than Shake ShackWhen investing geniuses David and Tom Gardner have a stock tip, it can pay to listen. After all, the newsletter they have run for over a decade, Motley Fool Stock Advisor, has tripled the market.*
David and Tom just revealed what they believe are the 10 best stocks for investors to buy right now... and Shake Shack wasn't one of them! That's right -- they think these 10 stocks are even better buys.
Click here to learn about these picks!
*Stock Advisor returns as of February 6, 2017
Rick Munarriz owns shares of Shake Shack. The Motley Fool is short Shake Shack. The Motley Fool has a disclosure policy.