Why Shake Shack Inc. Dropped 10% Last Month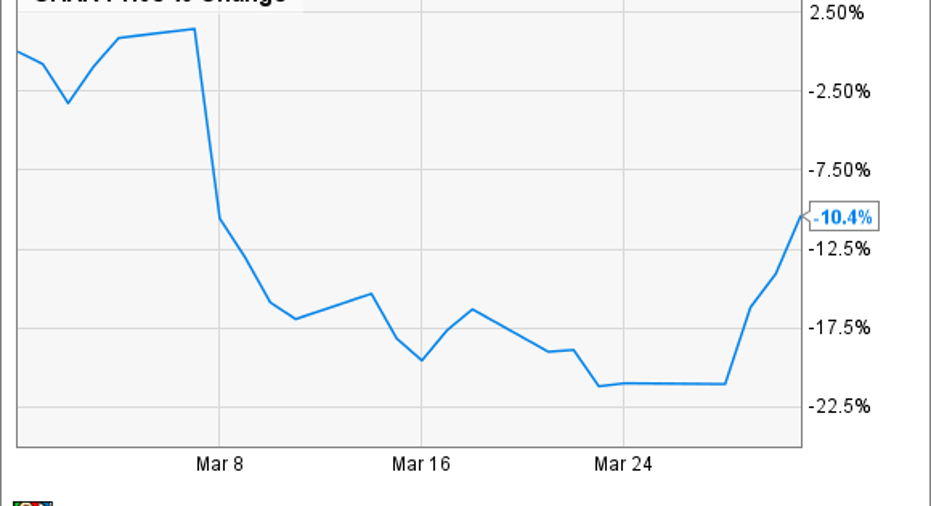 Image source: Shake Shack.
What:Shake Shack Inc. stock took a hit last month, falling 10%, according to data from S&P Global Market Intelligenceasthe gourmet burger chain dipped following a disappointing outlook in its fourth-quarter earnings report. As you can see from the chart below, the stock fell nearly 20% in the days following its earnings report before bouncing back on a late-month recovery.
So what:Shake Shack delivered a strong fourth quarter as comparable sales increased 11%, and it beat earnings estimates by a penny with a profit of $0.08 per share. The burger chain's revenue grew nearly 47% to $51.1 million, topping expectations of $50.4 million, but the market was turned off by its guidance for the current year.
Despite strong momentum following a year when the company posted comparable sales growth of 13.3%, it's eyeing a much more muted comp growth of 2.5%-3% for 2016. Management also warned that higher wages would pressure margins, and its full-year revenue projection of $237 million-$242 million was below the analyst mark at $242.9 million.
Toward the end of the month, the stock benefited from an upgrade from Longbow Research, which credited the performance of new stores and the impact of the recently released ChickenShack chicken sandwich.
Now what:This is a familiar predicament for Shake Shack shareholders. The company continues to outperform expectations, yet the demands of its high valuation means there's no room for disappointment. I suspect management's guidance to be conservative as the company is factoring in almost zero growth beyond the impact of new store openings.
Despite having a P/E near 100, the market seems to be underestimating Shake Shack's growth potentialas analysts project just 19% growth in EPS this year. Though lapping a double-digit comp will be tough, I'd expect Shake Shack's to beat its own guidance and continue to top analyst estimates as the macroeconomic environment is friendly, the brand remains strong, and guidance looks conservative.
The article Why Shake Shack Inc. Dropped 10% Last Month originally appeared on Fool.com.
Jeremy Bowman owns shares of Shake Shack. The Motley Fool has no position in any of the stocks mentioned. Try any of our Foolish newsletter services free for 30 days. We Fools may not all hold the same opinions, but we all believe that considering a diverse range of insights makes us better investors. The Motley Fool has a disclosure policy.
Copyright 1995 - 2016 The Motley Fool, LLC. All rights reserved. The Motley Fool has a disclosure policy.