Why Shake Shack, Globalstar, and South Jersey Industries Jumped Today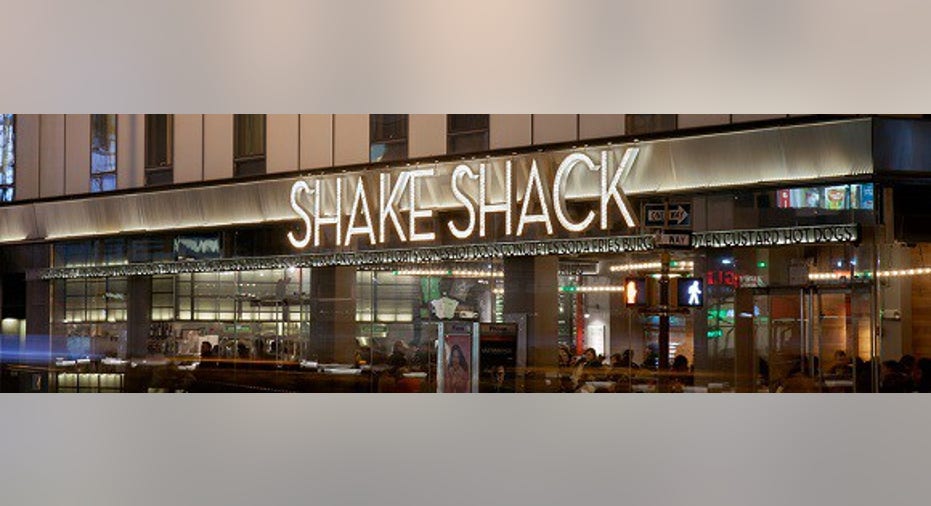 Image source: Shake Shack.
The stock market finished the week on a negative note Friday, with the Dow and S&P 500 both falling about 1% on the day. A combination of troubling quarterly results from several major retail department stores, uncertainty about the energy and banking sectors, and overall macroeconomic concerns undercut any sense of optimism among many investors.
In addition, now that first-quarter earnings season has reached its peak and started to wind down, market participants worry that come July, second-quarter results could be disappointing. Yet even amid the doom and gloom, several stocks posted substantial gains on Friday. Among them were Shake Shack , Globalstar , and South Jersey Industries .
Shake Shack gained almost 10% after the hot new burger chain reported its first-quarter results. The company said that comparable sales were up almost 10% among stores that had been open for at least 24 months, and it raised its guidance on full-year same-store sales growth to between 4% and 5%.
Although the chain still has the popular perception of being a burger joint, Shake Shack's newly released chicken sandwich has gotten a lot of attention in boosting customer satisfaction and broadening the restaurant's menu. Some still aren't happy about the pace of expected future growth, but shareholders celebrated nevertheless.
Globalstar soared 35% after the satellite company said that the Federal Communications Commission had been in contact with it. According to Globalstar's release, the FCC's Office of the Chairman said that an order has been circulated in advance of anticipated action from the full commission regarding the authorization of the company's Terrestrial Low-Power Service.
The service, also known as TLPS, has been pending before the FCC since late 2012, and Globalstar believes that TLPS can get five times the distance and four times the throughput of public Wi-Fi systems. With an order expected soon, today's jump indicates the hope among shareholders that a positive resolution to the long-standing issue could be imminent.
Finally, South Jersey Industries climbed 7%. The utility said late Thursday that it had increased the size of a secondary offering of common stock by 500,000 shares, bringing the total offering to 7 million shares. South Jersey Industries priced the offering at $26.25 per share, raising a gross total of $183.8 million.
The company expects to use the net proceeds for capital expenditures in order to grow its regulated utility business, citing infrastructure investments as a potential example. Given that South Jersey Industries has been trying to make a transition to emphasize its regulated business over other, less-predictable sources of revenue, raising additional capital should give it even more flexibility in deciding a strategic direction for growth going forward.
The article Why Shake Shack, Globalstar, and South Jersey Industries Jumped Today originally appeared on Fool.com.
Dan Caplinger has no position in any stocks mentioned. The Motley Fool recommends South Jersey Industries. Try any of our Foolish newsletter services free for 30 days. We Fools may not all hold the same opinions, but we all believe that considering a diverse range of insights makes us better investors. The Motley Fool has a disclosure policy.
Copyright 1995 - 2016 The Motley Fool, LLC. All rights reserved. The Motley Fool has a disclosure policy.