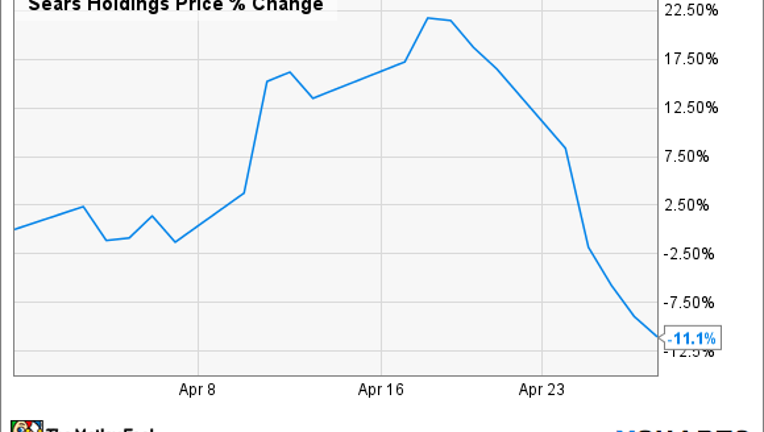 What happened
Shares ofSears Holdings Corp.(NASDAQ: SHLD) were sliding again last month -- a rise in insider buying in the middle of the month was erased after the company reported preliminary earnings at the end of the month.
Image source: Sears Holdings.
By the end of April, the stock was down 11.1% according to data from S&P Global Market Intelligence. The chart below shows the sell-off in the last week of the month.
So what
Sears remained volatile as investors made bets about the retailer's potential demise. Shares actually spiked on April 11 as key shareholders like Bruce Berkowitz and CEO Eddie Lampert bought more of the stock.
However, the stock gave back those gains and more toward the end of the month when the company said it had to replace its CFO for the second time in a year and gave a first quarter update as part of a press release detailing cost-saving measures. Management said that comparable sales across its business, which includes KMart, fell 11.8%. The stock plummeted 24% over the subsequent week in response to the news.
Now what
Sears said it would report positive net income in the first quarter, but that was only due to the sale of its Craftsman tool brand earlier this year. The underlying business remains in shambles, and even Sears itself has said that its status as a going concern is in "substantial doubt." We'll learn more about Sears' prospects when it reports earnings later this month, but with the company running out of assets to sell and sales continuing to plunge, the likelihood of bankruptcy is growing fast.
10 stocks we like better than Sears HoldingsWhen investing geniuses David and Tom Gardner have a stock tip, it can pay to listen. After all, the newsletter they have run for over a decade, Motley Fool Stock Advisor, has tripled the market.*
David and Tom just revealed what they believe are the 10 best stocks for investors to buy right now... and Sears Holdings wasn't one of them! That's right -- they think these 10 stocks are even better buys.
Click here to learn about these picks!
*Stock Advisor returns as of May 1, 2017
Jeremy Bowman has no position in any stocks mentioned. The Motley Fool has no position in any of the stocks mentioned. The Motley Fool has a disclosure policy.