Why Sears Holdings Corp. Dropped 12% in March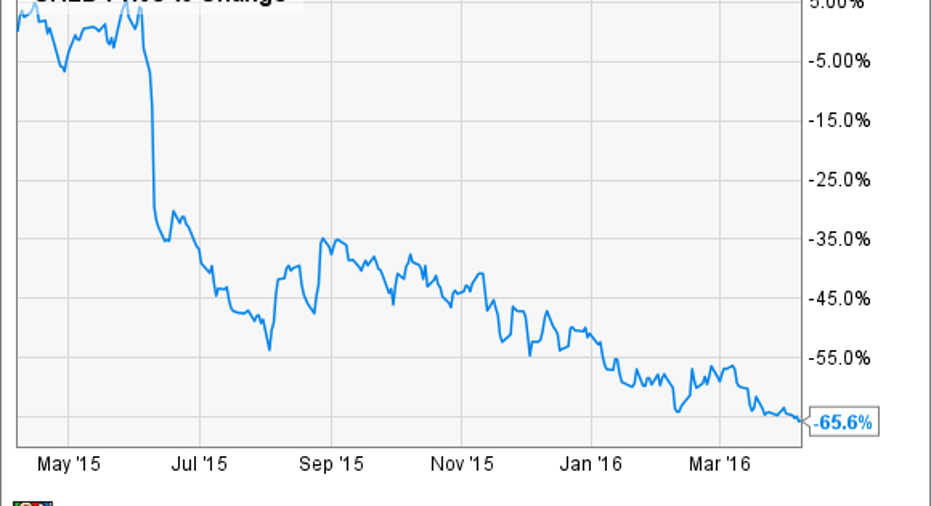 What:Shares ofSears Holdings fell 12.4% last month, according to data provided byS&P Global Market Intelligence. The beleaguered retailer has seen its sales and profits plummet amid a perfect storm of intense competition, rising costs, and difficulty in obtaining financing at attractive rates.
So what:In a letter accompanying Sears' fourth-quarter earnings release, Chairman Eddie Lampert highlighted the toll that online commerce and other disruptive threats have taken on traditional retailers. In addition, Sears, like many large retailers, is being negatively affected by recent minimum wage increases. Compounding the problem is the fact that Sears is finding it increasingly difficult to raise capital at favorable interest rates. This is at a time when less proven and unprofitable businesses such as Uber are rewarded with "almost unlimited capital" by investors, Lampert wrote.
Management believes Sears' mobile and membership initiatives will help to right the ship by improving the company's "integrated retail" shopping experience. Investors, however, appear unconvinced, with Sears' March swoon extending a 65% fall in the company's stock price over the past year.
Now what:It appears unlikely that Sears' integrated retail strategy will be enough to stem the decline in the company's sales and profits. In the fourth quarter alone, Sears lost $580 million -- or $5.44 per share -- as its same-store sales plunged 7.1%. That's a huge loss for a business with a $1.5 billion market cap and dwindling cash reserves. Combined with a massively underfunded pension plan and the likelihood of more losses ahead, this embattled retailer appears to be moving closer towards bankruptcy every passing day.
The article Why Sears Holdings Corp. Dropped 12% in March originally appeared on Fool.com.
Joe Tenebruso has no position in any stocks mentioned. The Motley Fool has no position in any of the stocks mentioned. Try any of our Foolish newsletter services free for 30 days. We Fools may not all hold the same opinions, but we all believe that considering a diverse range of insights makes us better investors. The Motley Fool has a disclosure policy.
Copyright 1995 - 2016 The Motley Fool, LLC. All rights reserved. The Motley Fool has a disclosure policy.