Why Seagate Technology PLC Stock Tumbled Today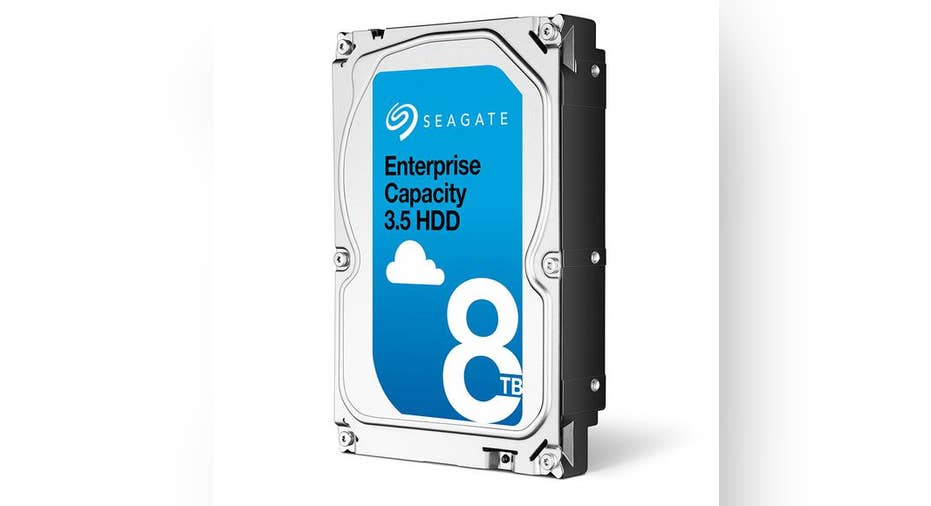 Image source: Seagate Technology.
What: Shares of hard disk drive manufacturer Seagate Technology tumbled on Friday following the company's fiscal third-quarter report. Seagate's earnings came in well below analyst expectations, driven by a steep drop in revenue and a less-steep drop in expenses. At 10:45 a.m. ET the stock was down about 15%.
So what: Seagate reported quarterly revenue of $2.6 billion, down 22.1% year over year and in line with analyst expectations. A weak PC market, which saw shipments slump 11.5% during the first calendar quarter, as well as the growing attractiveness of solid state drives, drove down demand for Seagate's products.
Seagate reported non-GAAP EPS of $0.22, down from $1.08 during the prior-year periodand $0.15 below the average analyst estimate. On a GAAP basis, Seagate reported a loss of $0.07 per share, down from a gain of $0.88 per share during the prior-year period. Total expenses declined by 14% year over year, far slower than revenue, while Seagate's GAAP gross margin tumbled to 20.2%, down from 28.7% during the same period last year.
Now what: Despite the weak results, Seagate maintained its generous quarterly dividend of $0.63 per share. CEO Steve Luczo pointed to the long-term picture. "Our quarterly results fell short of our expectations as a result of several near-term demand factors. Despite these challenges, we believe we have the product portfolio, technology roadmap and operational leverage to ensure we are well-positioned for long-term success. Accordingly, we are aggressively working to position Seagate to respond to new demand levels and are committed to ongoing financial discipline."
For the fourth quarter, Seagate expects revenue to decline to $2.3 billion, representing a 21.4% year-over-year drop. Analysts expected revenue of $2.61 billion. With a very challenging environment for Seagate erasing the company's profits, and with no relief expected anytime soon, investors are running away from the hard drive manufacturer.
The article Why Seagate Technology PLC Stock Tumbled Today originally appeared on Fool.com.
Timothy Green has no position in any stocks mentioned. The Motley Fool has no position in any of the stocks mentioned. Try any of our Foolish newsletter services free for 30 days. We Fools may not all hold the same opinions, but we all believe that considering a diverse range of insights makes us better investors. The Motley Fool has a disclosure policy.
Copyright 1995 - 2016 The Motley Fool, LLC. All rights reserved. The Motley Fool has a disclosure policy.