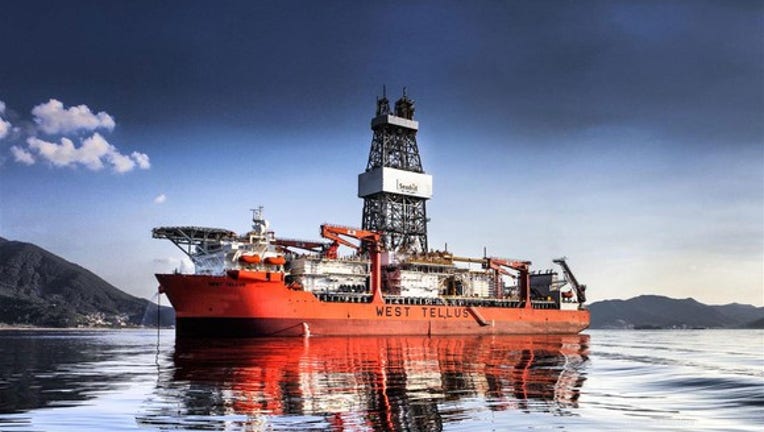 Tuesday was a downbeat day for the stock market, with the Dow Jones Industrialsindex posting its first loss in 13 sessions. Most market participants pointed to uncertainty about tonight's presidential address to lawmakers on Capitol Hill, noting that administration policies haven't yet shown the forward momentum that some investors had hoped to see taking shape by now. Yet part of the downward pressure also came simply from the pace of past gains, and many saw the modest declines merely as a pause in the bull market rally. Still, some stocks particularly suffered, and Seadrill (NYSE: SDRL), Frontier Communications (NASDAQ: FTR), and TD Ameritrade (NASDAQ: AMTD) were among the worst performers on the day. Below, we'll look more closely at these stocks to tell you why they did so poorly.
Seadrill falls on bankruptcy fears
Shares of Seadrill lost 14% after the offshore driller said that the company might have to file for bankruptcy protection if it isn't able to find a way to satisfy its creditors. The driller's fourth-quarter results actually showed some improvement in Seadrill's fundamental business, but the primary concern right now is finding a way to restructure about $10 billion in debt, more than $3 billion of which is set to come due in the short term. CFO Mark Morris said in the conference call following the report's release that "in the event that a consensual restricting agreement is not concluded or an agreement to an extension is not reached, we are also preparing various contingency plans, including potential schemes of arrangement or Chapter 11 proceedings." Mentioning the B-word is never a plus for a company, and despite Seadrill saying that it has made some progress with creditors, the worst-case scenario still weighed heavily on investors' minds.
Image source: Seadrill.
Frontier drops the call
Frontier Communications stock fell 11% in the wake of the company's fourth-quarter financial results. The telecom reported a loss of $133 million, which worked out to $0.12 per share, and revenue sank by nearly 5% just in the past quarter. Frontier has been fighting to collect on non-paying accounts in its newly acquired territory in Texas, Florida, and California, and the company expects those measures to improve in the first quarter of 2017 and to complete the process soon. Nevertheless, investors didn't seem to respond positively to comments from CEO Dan McCarthy highlighting Frontier's imminent reorganization into separate commercial and consumer business units, and even claims of greater synergies weren't enough to encourage shareholders. Moreover, news that Frontier will seek a reverse stock split of 1-to-10 or 1-to-25 was received as an admission that the stock is unlikely to regain its lost ground without such measures.
TD Ameritrade deals with a price war
Finally, TD Ameritrade finished down 10%. The brokerage company is dealing with fallout from its industry peers, where both Schwaband Fidelity have made major price cuts to their stock commissions. Today, Fidelity announced that it would offer trades for $4.95, down from its previous $7.95 and comparing favorably to TD Ameritrade's $9.99. Price competition is nothing new in the business, but the recent cuts are enough that TD Ameritrade will likely have to follow suit at some point. That will eat further into profits, and after a long struggle due to low interest rates, falling revenue from another source was the last thing TD Ameritrade investors wanted to see.
Offer from The Motley Fool: The 10 best stocks to buy nowMotley Fool co-founders Tom and David Gardner have spent more than a decade beating the market. In fact, the newsletter they run, Motley Fool Stock Advisor, has tripled the S&P 500!*
Tom and David just revealed their ten top stock picks for investors to buy right now.
Click here to get access to the full list!
*Stock Advisor returns as of 1/30/2017
Dan Caplinger has no position in any stocks mentioned. The Motley Fool owns shares of and recommends TD Ameritrade. The Motley Fool has a disclosure policy.