Why Scorpio Bulkers Inc. Stock Sailed 42% in January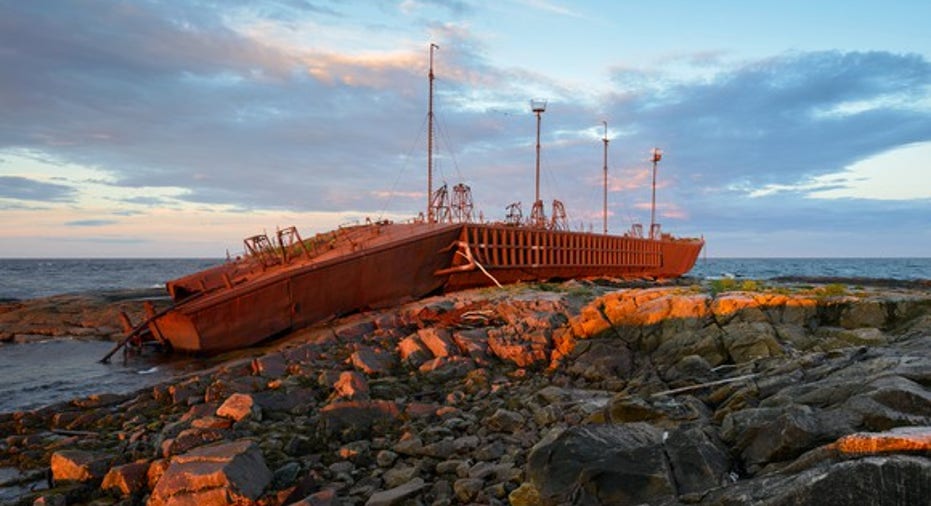 What happened
Shares of dry bulk ocean shipper Scorpio Bulkers Inc. (NYSE: SALT) surged 42% in the first month of the new year, entering January selling for $5.05 a share and exiting it at $7.15. Impressive as this result has been already, the surge appears to be continuing -- with Scorpio Bulkers stock up 10% more so far in February.
So what
What's truly curious about the run Scorpio stock has been enjoying is that it's come about not because of good news, but in spite of good news' absence. Last month, the Baltic Dry Index (which tracks the rates shippers can charge for carrying their cargo) entered 2016 well below its 1,000-point reference point at 953. Over the past six weeks, things have gotten worse, not better, with the BDI sinking 21% to a recent low of 752.
Scorpio Bulkers' profitability is on the rocks. Image source: Getty Images.
Then, this morning, Scorpio reported a $20.6 million quarterly loss on only $26.8 million in revenue in its fourth-quarter and full-year 2016 earnings release, missing Wall Street estimates on earnings and revenue alike.
Now what
Scorpio Bulkers stock went up even after these results were released, raising the question: What is it that investors are seeing in this stock that makes them so optimistic?
The answer, near as I can figure, is that even though Scorpio Bulkers' numbers have been awful, and even more awful than Wall Street predicted, they're at least less awful than what we saw in 2015. Comparing full-year 2016 results to full-year 2015 results, Scorpio grew its revenue 25% and cut its losses 76% (97% on a per-share basis).
Granted, Scorpio did all of this in an environment where the BDI was generally trending upward -- a trend that has now reversed. Granted, too, that reversal does not appear to bode well for Scorpio Bulkers in 2017.Conclusion: As best I can figure it, investors are trusting that the BDI will reverse itself once again. They're hoping charter rates will begin climbing again, and that Scorpio Bulkers will grow its revenue as a result, and cut its losses -- maybe even somehow earn a profit.
To which I can only say: It had better happen soon. Because with debt mounting, cash ebbing, and losses climbing, Scorpio looks perilously close to a lee shore.
10 stocks we like better than Scorpio BulkersWhen investing geniuses David and Tom Gardner have a stock tip, it can pay to listen. After all, the newsletter they have run for over a decade, Motley Fool Stock Advisor, has tripled the market.*
David and Tom just revealed what they believe are the 10 best stocks for investors to buy right now... and Scorpio Bulkers wasn't one of them! That's right -- they think these 10 stocks are even better buys.
Click here to learn about these picks!
*Stock Advisor returns as of February 6, 2017
Rich Smith has no position in any stocks mentioned. The Motley Fool has no position in any of the stocks mentioned. The Motley Fool has a disclosure policy.