Why Ruby Tuesday, Inc. Stock Tumbled 18.2% in April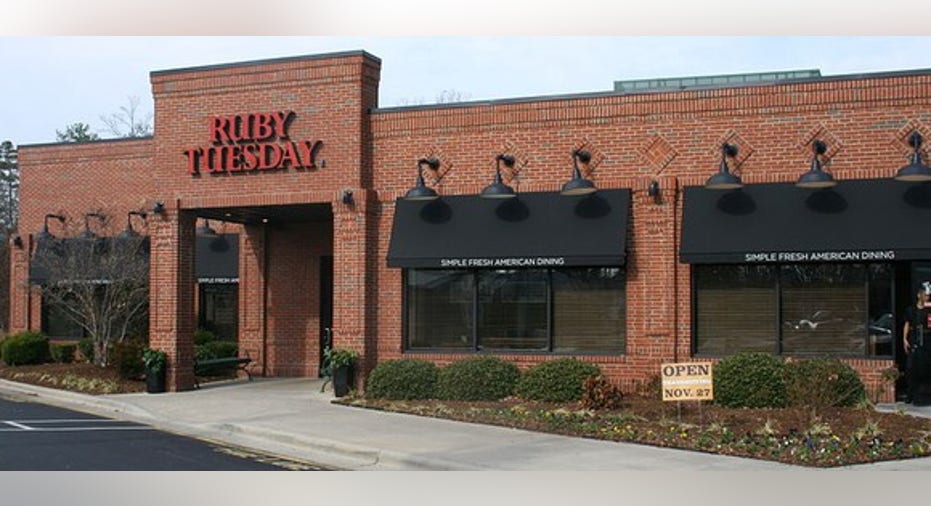 Image source: Wikimedia Commons.
What:Shares ofRuby Tuesdayfell 18.2% in the month of April, according to data provided byS&PGlobal Market Intelligence, after the casual dining chain announced weaker-than-expected fiscal third-quarter 2016 results. As of this writing, Ruby Tuesday stock has fallen more than 34% over the past year.
So what:More specifically, on April 7, 2016, Ruby Tuesday revealed revenue declined 5.1% year over year, to $271.5 million, driven by a combination of a net reduction of 20 company-owned restaurants over the past year, as well as a 3.1% decline in same-restaurant sales. To be fair, temporary store closures from severe weather exacerbated that result to the tune of 140 basis points. But even then, comps would have declined 1.7%.
What's more, restaurant-level margin fell 10 basis points, to 17.1%, which -- based on generally accepted accounting principles (GAAP) -- translated to a net loss of $3.1 million, or $0.05 per share. On an adjusted (non-GAAP) basis, which means excluding expenses related to restaurant closures and impairments, Ruby Tuesday's net income fell 16% year over year, to $1.6 million, or $0.03 per share. Analysts, on average, were anticipating significantly higher adjusted net income of $0.05 per share.
"Our third quarter was a volatile period affected by weather, softness in the casual dining industry, and increased promotional activity by our peers," explained Ruby Tuesday CEO JJ Buettgen. "Despite this challenging environment, we continue to believe that our key brand initiatives will drive an improvement in guest counts."
Now what:Buettgen elaborated that the chain's Garden Bar initiative and a "lift" at remodeled locations have both yielded encouraging early results. And the company promised to incorporate those results into its go-forward strategy, while at the same time working hard to improve in-restaurant execution and refine its media and targeting plans.
In the meantime, however, Ruby Tuesday reduced its full-year fiscal2016 guidance for adjusted net income per share to be $0.05 to $0.08, compared to previous expectations for $0.12 to $0.17.
Of course, it didn't help that Ruby Tuesday also announced the resignation of its CFO, Jill Golder, the same day, citing her decision to take a "senior leadership role at another company" and immediately commencing a search for a replacement.
Several shareholder lawsuits have also cropped up since then, alleging Ruby Tuesday knowingly misled investors by repeatedly reiterating its old guidance in previous quarters despite signs it would prove unattainable.
Given Ruby Tuesday's underperformance, shrinking restaurant base, and tempered view of the future, I can't blame the market for taking a step back as the company struggles to return to sustained, profitable growth.
The article Why Ruby Tuesday, Inc. Stock Tumbled 18.2% in April originally appeared on Fool.com.
Steve Symington has no position in any stocks mentioned. The Motley Fool has no position in any of the stocks mentioned. Try any of our Foolish newsletter services free for 30 days. We Fools may not all hold the same opinions, but we all believe that considering a diverse range of insights makes us better investors. The Motley Fool has a disclosure policy.
Copyright 1995 - 2016 The Motley Fool, LLC. All rights reserved. The Motley Fool has a disclosure policy.