Why Ruby Tuesday, Clovis Oncology, and G-III Apparel Group Slumped Today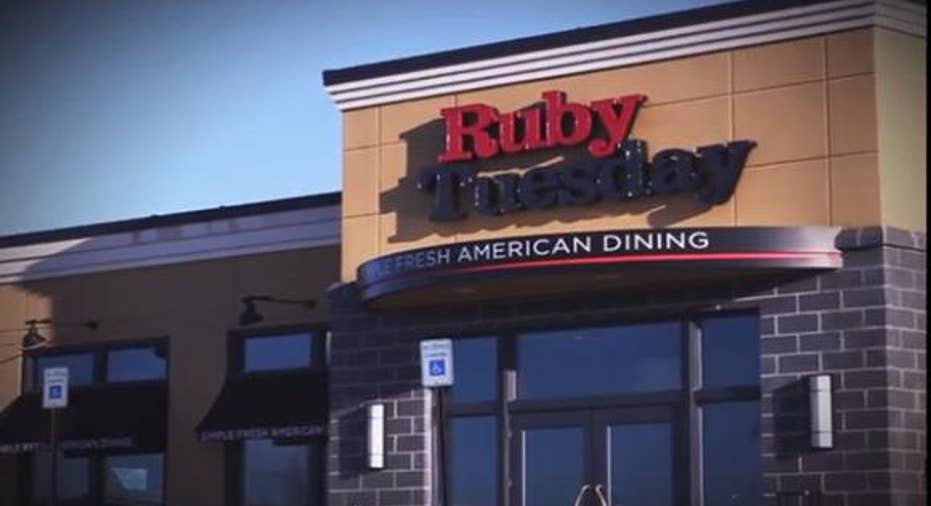 Image: Ruby Tuesday.
Friday brought a modest uptick to the stock market, but investors looking at major market indexes early in the day would have been disappointed at how much of their early gains they gave up. Oil climbed almost to $40 per barrel, spurring positive reactions in dozens of energy-related stocks. But later in the day, nagging concerns about whether the state of the global economy will support further gains for the markets worldwide ate into investor optimism, leading to a much more mixed performance from the market as a whole. Indeed, some stocks posted significant declines, and Ruby Tuesday , Clovis Oncology , and G-III Apparel Group were among the poorest performers on the day.
Ruby Tuesday fell 12% after reporting disappointing results in its fiscal third-quarter financial report Thursday afternoon. The restaurant chain said that comparable-restaurant sales fell 3.1%, with severe winter weather accounting for about half of the decline, and overall sales declined 5% due to a reduction of 20 company-owned locations. The company's GAAP loss widened to $3.1 million, and adjusted earnings of $0.03 per share fell short of the nickel per share consensus forecast among investors. Ruby Tuesday also reduced some of its guidance for the full year, including new expectations for a 1% drop in comps and adjusted earnings of just $0.05 to $0.08 per share, down from the previous range of $0.12 to $0.17 per share. Given how competitive the restaurant space is right now, Ruby Tuesday will have to work hard to execute a turnaround.
Clovis Oncology dropped 18% on news that briefing materials for an FDA advisory panel included major concerns about the prospective lung-cancer treatment rociletinib. Reviewers on the staff of the Food and Drug Administration questioned whether the treatment was more effective than alternatives already on the market, and they also recommended including what is known as a black-box warning on the drug's label to communicate risks and concerns about potential side effects. The FDA panel is scheduled to meet on April 12, and the FDA's target action date for a final approval decision is June 28. Investors are increasingly nervous that in the end, rociletinib might not gain approval at all, and if that happens, the stock could fall even further.
Finally, G-III Apparel Group declined 6%. The apparel company mostly fell in sympathy with clothing retail peer Gap, which reported falling same-store sales for all three of its major brands, including the namesake Gap as well as Banana Republic and Old Navy. Concerns about high inventory levels at Gap made their way into other retail stocks as well, and G-III has been under pressure since reporting weaker than expected profit figures in its holiday quarter back in March. Until macroeconomic concerns start to wane, companies like G-III Apparel with exposure to the retail sector could have trouble making back the ground they've lost.
The article Why Ruby Tuesday, Clovis Oncology, and G-III Apparel Group Slumped Today originally appeared on Fool.com.
Dan Caplinger has no position in any stocks mentioned. The Motley Fool has no position in any of the stocks mentioned. Try any of our Foolish newsletter services free for 30 days. We Fools may not all hold the same opinions, but we all believe that considering a diverse range of insights makes us better investors. The Motley Fool has a disclosure policy.
Copyright 1995 - 2016 The Motley Fool, LLC. All rights reserved. The Motley Fool has a disclosure policy.