Why Rooftop Solar Stocks Plunged in 2016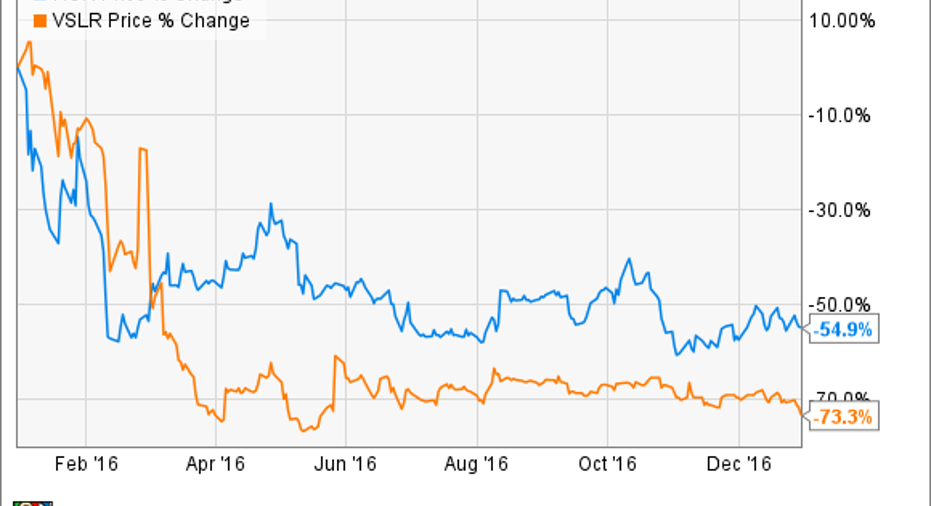 Image source: Getty Images.
After a decade of rocketing growth, 2016 was a very tough year for the rooftop solar industry. Growth slowed dramatically and the introduction of the loan as a viable financing option upended the lease/power purchase agreement (PPA) model that's driven the industry to where it is today.
Vivint Solar Inc. (NYSE: VSLR) and Sunrun (NASDAQ: RUN) both ended the year down more than 50%, and before being bought out by Tesla Motors Inc. (NASDAQ: TSLA), SolarCity's stock was down 60%. The challenge heading into 2017 is that the pressures rooftop solar is facing aren't going to get any easier.
Why growth disappeared in 2016
The big shock of the past year has been the massive slowdown in residential solar growth. The extension of the Investment Tax Credit has given the industry stability in federal subsidies, but it's also removed the urgency of installing solar. And with costs continuing to decline, it may make sense for customers to wait rather than install rooftop solar today.
According to SEIA/GTM Research's U.S. Solar Market Insight Report, third-quarter residential solar installations were up just 2% from a year ago and fell 10% sequentially. The industry overall has had to adjust by cutting costs, particularly in sales and marketing, and by focusing more on the profitable customers who are left.
Compounding the growth challenge is the fact that customers no longer see signing a 20-year PPA/lease attractive given the low cost of installations and greater availability of loans, which was a shock to Vivint's, Sunrun's, and SolarCity's business models.
Financing changes course
The rooftop solar industry was built on third-party financing in the form of PPAs and leases. Solar companies were able to use tax benefits more efficiently than customers and could get better financing terms, mainly because banks didn't know how to finance one-off rooftop solar systems. But as the industry has grown and costs have come down, the tax benefits have become easier for homeowners to use and banks have begun to offer financing solutions.
Image source: Getty Images.
This trend toward loans took hold in 2016 and threw the industry into turmoil. Regional installers began taking market share from industry leaders Vivint, SolarCity, and Sunrun because they were more flexible in financing offerings. The larger installers had to respond by offering their own loan products, but that highlighted that their entire organizational structures were built for third-party leasing, not competing for customers based on price alone (enabled by loans).
We still don't know how the financing changes will shake out in the solar industry, but it's fair to say that much of the competitive advantage the public solar companies had going into 2016 diminished during the year. Now, regional installers are developing their growth strategies and larger companies have to find a new way to differentiate themselves to stay alive.
How solar installers can adapt
Offering loans isn't inherently a problem for any solar installer. In a way, it can be a positive because instead of taking the financing risk onto the balance sheet, the risk goes to the bank providing the loan and the installer gets cash up front.
What's challenging is differentiating yourself when nearly every installer is using the same equipment. Price becomes the biggest differentiator, and that will lead to lower margins in the long term.
The best plan for installers is to find a way to differentiate based on efficiency or ancillary offerings like energy storage or energy management products. Tesla's plant under construction in Buffalo, New York, intends to make high-efficiency solar panels in an intention to squeeze more energy out of each roof. Vivint and Sunrun could partner with a manufacturer like LG orKyocera, for example, to do the same.
Energy storage isn't economical in most states today, but it's getting close. Building the infrastructure and software behind energy storage and management could be a differentiation tough for regional installers to match.
Efficiency and energy storage are two ways publicly traded solar installers can start to differentiate themselves, so look for progress on that front in 2017.
An uncertain future for rooftop solar
What's clear is that in 2016the rooftop solar business got a lot more difficult and a lot less profitable for Vivint Solar, Sunrun, and Tesla's SolarCity. And the challenges they're facing won't get easier in 2017 unless they can develop a sustainable differentiation. That may be easier said than done.
10 stocks we like better than Tesla Motors When investing geniuses David and Tom Gardner have a stock tip, it can pay to listen. After all, the newsletter they have run for over a decade, Motley Fool Stock Advisor, has tripled the market.*
David and Tom just revealed what they believe are the 10 best stocks for investors to buy right now... and Tesla Motors wasn't one of them! That's right -- they think these 10 stocks are even better buys.
Click here to learn about these picks!
*Stock Advisor returns as of January 4, 2017
Travis Hoium has no position in any stocks mentioned. The Motley Fool owns shares of and recommends Tesla Motors. The Motley Fool has a disclosure policy.