Why Rogers Corp. Soared Today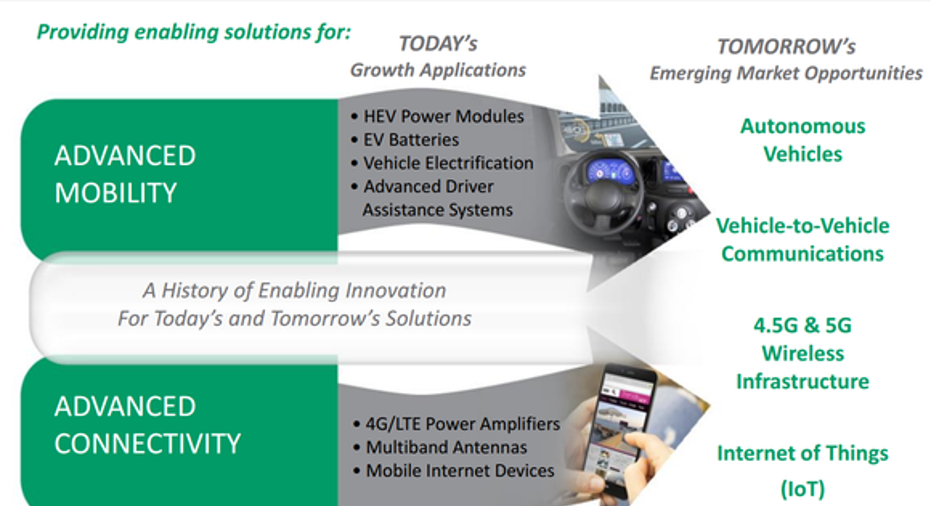 What happened
Shares of specialized materials manufacturer Rogers (NYSE: ROG) jumped as much as 11.7% higher on Thursday, setting fresh 52-week and all-time highs in the process.
So what
The company reported first-quarter results Wednesday night, exceeding Wall Street's estimates by a wide margin. Top-line sales grew 27% year over year to $204 million, leaving the analyst consensus grasping for air at $190 million. On the bottom line, adjusted earnings soared 79% higher to land at $1.68 per diluted share. Here, your average analyst would have settled for $1.15 per share.
The company's target markets, now and tomorrow. Image source: Rogers.
Now what
Rogers' management pinned the revenue surprise on organic growth across all business units, including an additional boost from the recently acquired DeWAL Industries and Diversified Silicone Products operations. Both sales and operating margins increased in each of Rogers' three reporting segments, compared to the year-ago quarter.
"We remain cautious regarding global markets given the ongoing geopolitical uncertainty," said Rogers CEO Bruce Hoechner in a prepared statement. That being said, the company guided to second-quarter sales of roughly $195 million with an adjusted target of approximately $1.21 per diluted share.
Both of these guidance targets sit above the high end of Wall Street's estimates. The stock has now gained 85% in six months, and Thursday's surge was honestly earned.
10 stocks we like better than RogersWhen investing geniuses David and Tom Gardner have a stock tip, it can pay to listen. After all, the newsletter they have run for over a decade, Motley Fool Stock Advisor, has tripled the market.*
David and Tom just revealed what they believe are the 10 best stocks for investors to buy right now... and Rogers wasn't one of them! That's right -- they think these 10 stocks are even better buys.
Click here to learn about these picks!
*Stock Advisor returns as of April 3, 2017
Anders Bylund has no position in any stocks mentioned. The Motley Fool has no position in any of the stocks mentioned. The Motley Fool has a disclosure policy.