Why Restoration Hardware Holdings, Inc. Stock Popped Today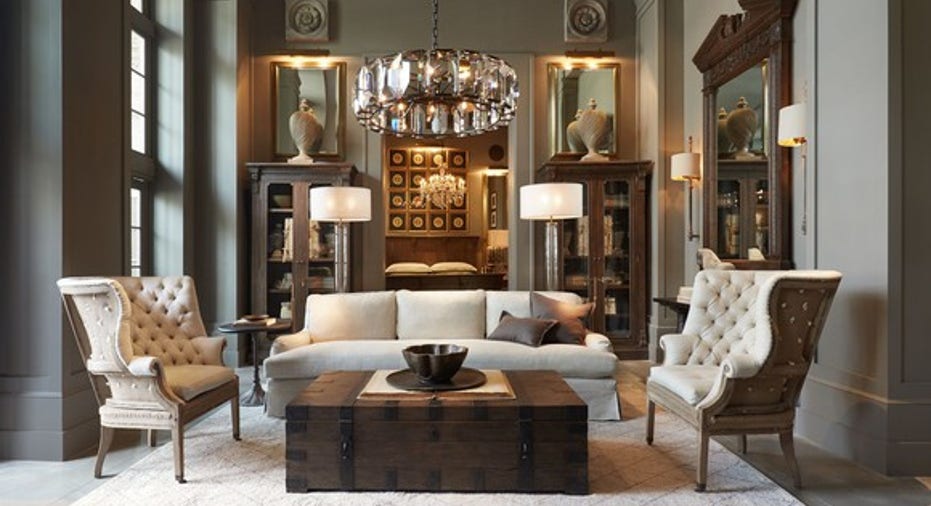 What happened
Shares of Restoration Hardware Holdings Inc. (NYSE: RH) were up 13% as of 12:15 p.m. EDT after the home-furnishings retailer announced better-than-expected fiscal fourth-quarter 2016 results.
So what
For its quarter ended Jan. 28, 2017, Restoration Hardware's revenue declined 9.3% year over year to $586.7 million, and adjusted net income fell 32.3% to $27.9 million, or $0.68 per diluted share. But Wall Street was even more pessimistic, with analyst consensus estimates predicting adjusted earnings of $0.65 per share on revenue of $585 million.
IMAGE SOURCE: RESTORATION HARDWARE.
"Exiting fiscal 2016, we are now through the most uncertain stages of our transformation," elaborated Restoration Hardware Chairman and CEO Gary Friedman. "We made several strategic investments and changes to our business last year, which temporarily depressed financial results in the short term, that we believe will strengthen our brand and position the business for accelerated growth in fiscal 2017 and beyond."
Now what
Restoration Hardware anticipates revenue in the current quarter to climb 16% to 20% year over year, or to a range of $530 million to $545 million, with roughly 5 percentage points of that growth attributed to its acquisition of Waterworks and 5 percentage points related to higher outlet and warehouse sales driven by accelerated inventory optimization initiatives. On the bottom line, that should translate to adjusted net income of $0.8 million to $2.4 million, or $0.02 to $0.06 on a per-share basis.
Finally, for the full fiscal year 2017, Restoration Hardware anticipates revenue to increase 8% to 12% year over year, or to a range of $2.3 billion to $2.4 billion, while adjusted net income should be $65 million to $80 million, or $1.78 per share to $2.19 per share. The midpoints of both ranges were well above consensus estimates, which called for fiscal 2017 revenue of $2.33 billion and earnings of $1.92 per share.
All things considered, between Restoration Hardware's relative outperformance last quarter and its encouraging outlook, it's no surprise to see investors celebrating today.
10 stocks we like better than RHWhen investing geniuses David and Tom Gardner have a stock tip, it can pay to listen. After all, the newsletter they have run for over a decade, Motley Fool Stock Advisor, has tripled the market.*
David and Tom just revealed what they believe are the 10 best stocks for investors to buy right now... and RH wasn't one of them! That's right -- they think these 10 stocks are even better buys.
Click here to learn about these picks!
*Stock Advisor returns as of February 6, 2017
Steve Symington has no position in any stocks mentioned. The Motley Fool recommends RH. The Motley Fool has a disclosure policy.