Why Regeneron Pharmaceuticals, Sears Holdings, and Shake Shack Slumped Today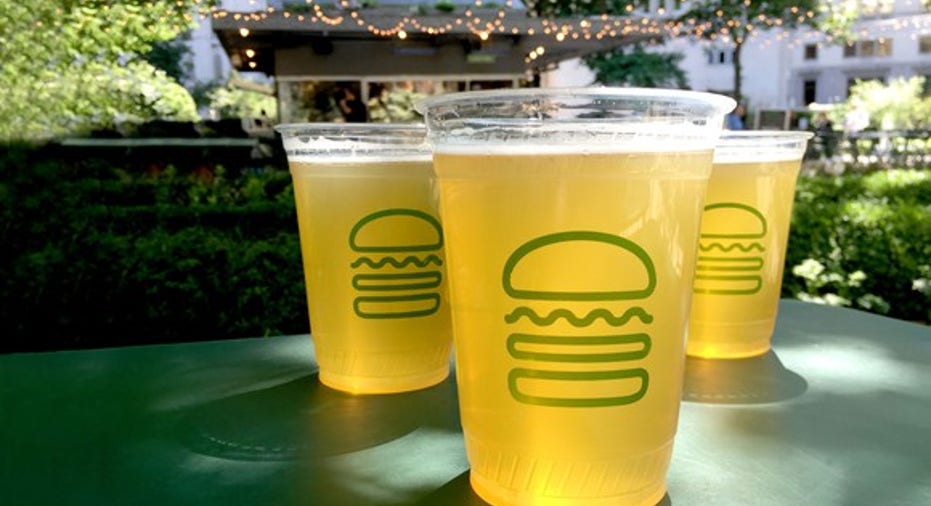 Friday was another record day for the stock market, with the Dow climbing above 19,999 without quite making it the final point higher to 20,000 before falling back toward the end of the day. A mixed jobs report seemed to give investors the perfect balance between economic strength and weakness, and market sentiment remained positive to frustrate those who had anticipated a quick pullback from the post-election rally once 2017 began.
Yet even though major market benchmarks performed well, some stocks lagged, and Regeneron Pharmaceuticals (NASDAQ: REGN), Sears Holdings (NASDAQ: SHLD), and Shake Shack (NYSE: SHAK) were among the worst performers on the day. Below, we'll look more closely at these stocks to tell you why they did so poorly.
Image source: Shake Shack.
Regeneron suffers a legal loss
Regeneron Pharmaceuticals dropped 6% after it and partner Sanofi (NYSE: SNY) said late Thursday that they would appeal an adverse legal ruling. A federal district court in Delaware granted an injunction against Regeneron and Sanofi that prevents them from selling, marketing, or manufacturing cholesterol drug Praluent, finding, instead, that the treatment infringes on patents held by Amgen (NASDAQ: AMGN).
The ruling will potentially last for 12 years, the length of Amgen's patents on its Repatha medication. Regeneron and Sanofi said they would appeal the decision, arguing that they still believe that the court's findings are legally incorrect. The companies will have 30 days before the injunction takes effect, giving them time to pursue their legal remedies, and perhaps come to a final decision on the matter.
Sears moves forward, but investors aren't convinced
Sears Holdings fell 8%, losing ground as investors assessed the potential long-term impact of its announcement yesterday discussing further steps in its ongoing strategy to continue its transformation. The company said Thursday that it would close 150 more unprofitable Kmart and Sears stores, along with selling its Craftsman tool and equipment business for $775 million, and raising its borrowing capacity by $1 billion through a new real-estate-backed loan and letter-of-credit facility.
CEO Eddie Lampert said that the actions will "stabilize the company and improve our financial flexibility in what remains a challenging retail environment." Yet investors are increasingly skeptical that any sort of long-term operational future exists for Sears, especially in light of the fact that even more successful retailers are struggling with trends that are taking shoppers out of malls and sending them to online specialists.
Shake Shack loses ground
Finally, Shake Shack fell 7%. Some investors responded negatively to a story in Barron's highlighting the burger chain's need to raise its menu prices in order to adjust for the higher labor costs in several areas of the U.S. that have seen upward pressure on their minimum wages. Also, news of moves in the corporate suite also played a role in the stock's decline, including the announcement that Shake Shack CFO Jeff Uttz would retire in 2017 and that Zach Koff would assume the role of chief operating officer.
Looking forward, the real key will be whether customers are willing to pay up for the perceived higher quality and desirability of Shake Shack's food items compared to those of its competitors. In the end, consumers typically reward quality, and Shake Shack has shown a commitment that should carry the day in the long run.
10 stocks we like better than Shake Shack When investing geniuses David and Tom Gardner have a stock tip, it can pay to listen. After all, the newsletter they have run for over a decade, Motley Fool Stock Advisor, has tripled the market.*
David and Tom just revealed what they believe are the 10 best stocks for investors to buy right now... and Shake Shack wasn't one of them! That's right -- they think these 10 stocks are even better buys.
Click here to learn about these picks!
*Stock Advisor returns as of January 4, 2017
Dan Caplinger has no position in any stocks mentioned. The Motley Fool is short Shake Shack. The Motley Fool has a disclosure policy.