Why Red Robin Gourmet Burgers, Inc. Stock Went Cold Today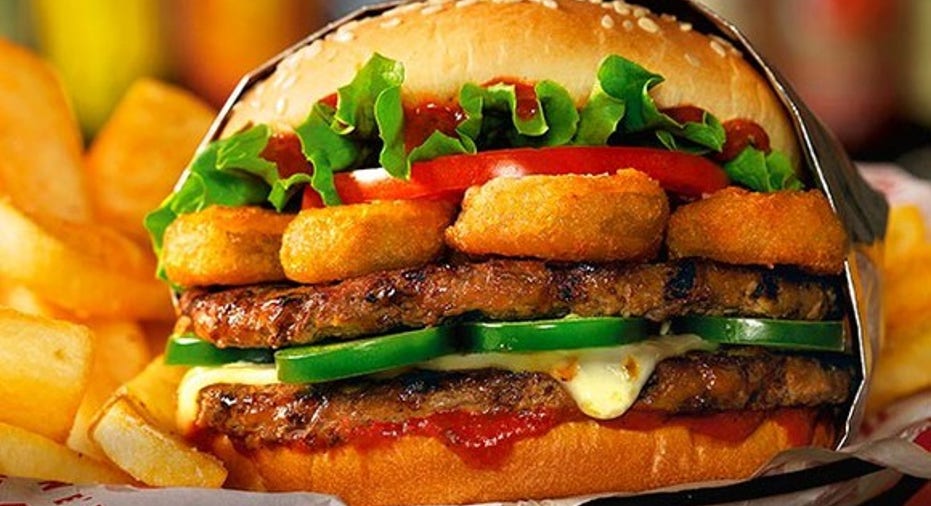 Image source: Red Robin Gourmet Burgers, Inc.
What:Shares of Red Robin Gourmet Burgers Inc. were down 19% as of 3 p.m. Tuesday after the burger-centric restaurant chain announced mixed fiscal first-quarter 2016 results.
So what:For the quarter ended April 17, 2016, Red Robin's revenue climbed 1.8% year over year, to $402.1 million, as the contributions of new and acquired restaurants was partially offset by a 2.9% decline (2.6% at constant currencies) in comparable-restaurant revenue. Based on generally accepted accounting principles (GAAP), that translated to net income of $14.2 million, or $1.03 per diluted share. On an adjusted (non-GAAP) basis, net income climbed 12.5% year over year, to $17.6 million, and 15.5% on a per-share basis, to $1.27.
Analysts, on average, were looking for lower adjusted earnings of $1.11 per share on higher revenue of $416.3 million.
Red Robin CEO Steve Carley stated the company was encouraged by sequential improvement in performance as compared to the fourth quarter of 2015. "Nevertheless," Carley added, "we were disappointed, particularly with our guest counts. We have a solid strategy for long-term success, including a number of operations and marketing initiatives."
Now what: For the full fiscal year 2016, Red Robin anticipates revenue will grow 8% year over year, driven by a combination of a higher number of operating weeks as well as new and acquired locations, and assuming flat to slightly negative comparable revenue growth.
By contrast, in February, Red Robin issued guidance for fiscal 2016 revenue to increase between 8.5% and 9.5%, assuming comparable revenue growth in the low single digits.
In the end, Red Robin's operational and marketing initiatives could certainly get the company's guest counts back on track in the coming quarters. But given the relative weakness revealed by today's report, it's no surprise to see the market bidding down shares today.
The article Why Red Robin Gourmet Burgers, Inc. Stock Went Cold Today originally appeared on Fool.com.
Steve Symington has no position in any stocks mentioned. The Motley Fool has no position in any of the stocks mentioned. Try any of our Foolish newsletter services free for 30 days. We Fools may not all hold the same opinions, but we all believe that considering a diverse range of insights makes us better investors. The Motley Fool has a disclosure policy.
Copyright 1995 - 2016 The Motley Fool, LLC. All rights reserved. The Motley Fool has a disclosure policy.