Why Red Robin Gourmet Burgers, Inc. Stock Skyrocketed Today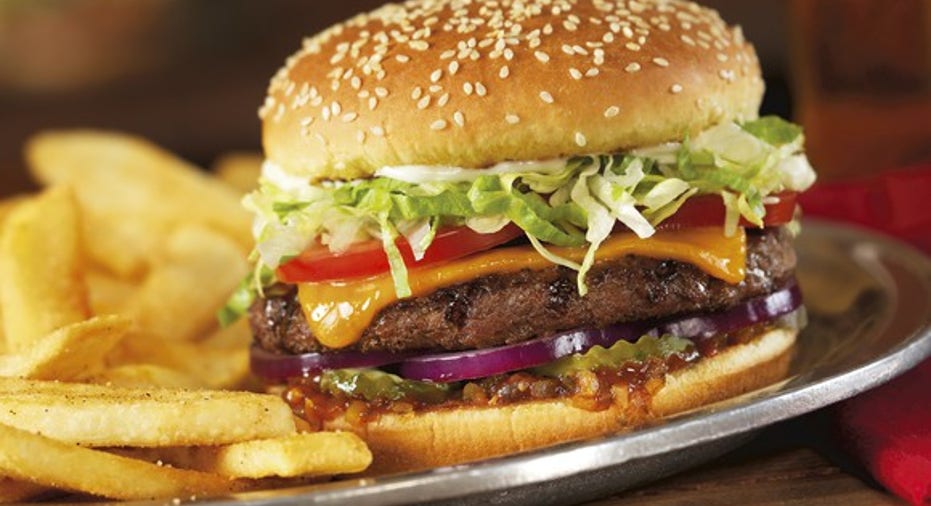 What happened
Shares of Red Robin Gourmet Burgers, Inc. (NASDAQ: RRGB)were up 19.9% as of 2:00 p.m. EDT Wednesday after the restaurant chain delivered delicious first-quarter 2017 results.
So what
Quarterly revenue climbed 4.1% year over year to $418.6 million, as contributions from new and acquired restaurants more than offset a 1.2% decline in comparable-restaurant revenue and the impact of closed locations. On the bottom line, Red Robin's net income declined 18.3% year over year to $11.6 million. And though net income per share declined 13.6% to $0.89, that was still well ahead of the $0.57 per share that investors were expecting.
Image source: Red Robin.
Recall last quarter, Red Robin CEO Denny Marie Post noted that actions to "streamline the team and focus on value, speed, and service in the back half of last year" had already begun to result in improved guest service scores.
This time, Post elaborated:
Now what
Looking forward, Red Robin expects full-year 2017 earnings per share of $2.80 to $3.10, with around 55% of that total expected in the second half of the year. That's well above the earnings of $2.76 per share that Wall Street was modeling before today.
This was a strong quarter from Red Robin that should leave investors rightly excited. It's no surprise to see Red Robin stock climbing higher as the market digests the news.
10 stocks we like better than Red Robin Gourmet BurgersWhen investing geniuses David and Tom Gardner have a stock tip, it can pay to listen. After all, the newsletter they have run for over a decade, Motley Fool Stock Advisor, has tripled the market.*
David and Tom just revealed what they believe are the 10 best stocks for investors to buy right now... and Red Robin Gourmet Burgers wasn't one of them! That's right -- they think these 10 stocks are even better buys.
Click here to learn about these picks!
*Stock Advisor returns as of May 1, 2017
Steve Symington has no position in any stocks mentioned. The Motley Fool has no position in any of the stocks mentioned. The Motley Fool has a disclosure policy.