Why Red Hat, Inc. Gained 20% in 2015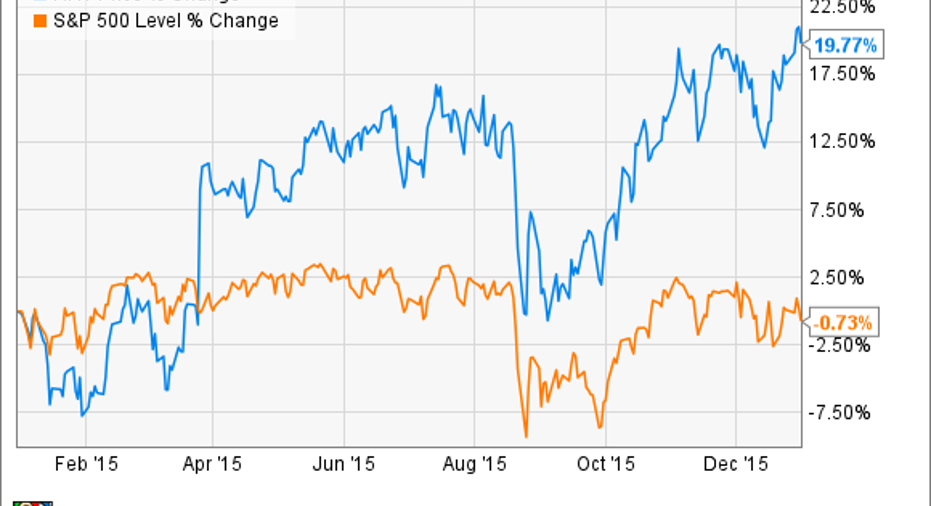 What: Shares of Red Hat gained 19.8% in 2015, according to data from S&P Capital IQ. Lifted by three fantastic quarterly reports to overcome the general market jitters in August, the open-source software veteran is finding its sea legs and growing into its nosebleed price to earnings ratios.
So what: Red Hat kept building on its history of strong reports, and it has now beaten earnings estimates in every quarter since the spring of 2013. This was done in the face of currency challenges, largely dodged because Red Hat's global operations spread their international expenses in much the same way as their revenues.
Now what: Red Hat Enterprise Linux, commonly known as RHEL, is now officially supported by every cloud computing platform that matters, including Microsoft's Windows Azure. That final piece of the cloud puzzle was announced during the third quarter, and it represents a major attitude shift in Redmond.
Microsoft and Red Hat have been butting heads on public stages for two decades now. RHEL support would have been anathema to Steve Ballmer or Bill Gates. But with Satya Nadella in Microsoft's CEO chair, the entire industry seems more relaxed about petty rivalries.
Of course, Red Hat paved the way toward that touchstone moment by building a strong reputation and rising sales over the years.
I expect that journey to continue in 2016, driving Red Hat's sales and cash flows ever higher. There's no reason the stock should lag behind.
The article Why Red Hat, Inc. Gained 20% in 2015 originally appeared on Fool.com.
Anders Bylund owns shares of Red Hat. The Motley Fool has no position in any of the stocks mentioned. Try any of our Foolish newsletter services free for 30 days. We Fools may not all hold the same opinions, but we all believe that considering a diverse range of insights makes us better investors. The Motley Fool has a disclosure policy.
Copyright 1995 - 2016 The Motley Fool, LLC. All rights reserved. The Motley Fool has a disclosure policy.