Why Red Hat, Inc. Gained 14% in March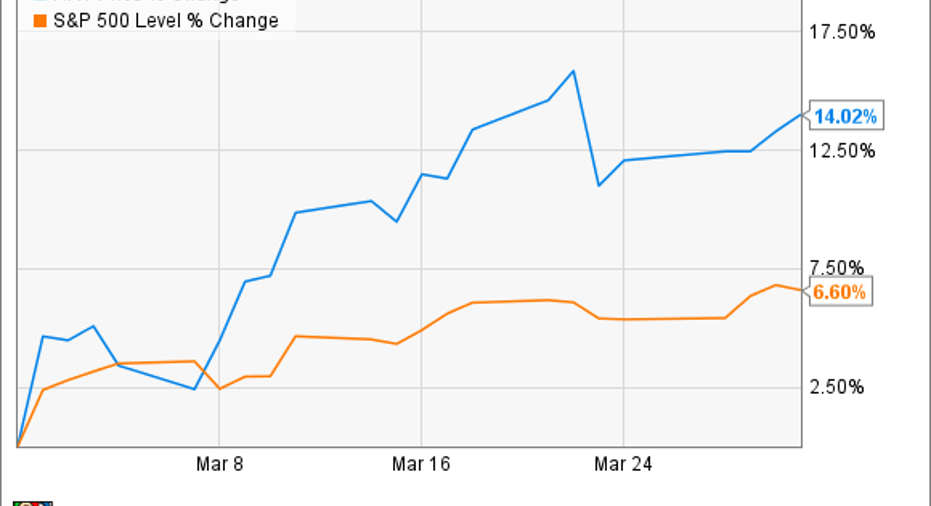 Image source: Red Hat.
What: Shares of Red Hat rose 14% in March, according to data from S&P Global Market Intelligence.
So what: There was no single shot of brilliance behind this month-long move, but more of a slow climb to the top. The rise was even undermined by a negative market reaction to Red Hat's fourth-quarter report, closing 4% lower the next day:
Otherwise, the most notable divergence from the S&P 500 fell around March 7, in tandem with archrival Microsoft . That was the day Redmond said it would offer a Linux version of the popular SQL Server database suite.
That's another move that would never have happened under Steve Ballmer, as CEO Satya Nadella continues to form previously unthinkable partnerships and adopting more of the open-source ethos that Red Hat champions.
Now what: The barriers between proprietary business software worlds are breaking down, bit by bit. Ironically, one of Microsoft's stated reasons for bringing SQL Server to Linux was to promote its Windows Azure cloud computing service. There, Red Hat Enterprise Linux and other Linux flavors have become very popular cloud server platforms, so it makes sense to expose them to Redmond's own database solution. Let the cross-selling begin!
Red Hat reaps the rewards of this evolving attitude, not just at Microsoft but across the business computing sector at large. And this is how that megatrend looks through the lens of Red Hat's financial results:
RHT Revenue (TTM) data by YCharts.
The article Why Red Hat, Inc. Gained 14% in March originally appeared on Fool.com.
Anders Bylund owns shares of Red Hat. The Motley Fool recommends Microsoft. Try any of our Foolish newsletter services free for 30 days. We Fools may not all hold the same opinions, but we all believe that considering a diverse range of insights makes us better investors. The Motley Fool has a disclosure policy.
Copyright 1995 - 2016 The Motley Fool, LLC. All rights reserved. The Motley Fool has a disclosure policy.