Why Raven Industries, Inc. Stock Skyrocketed Today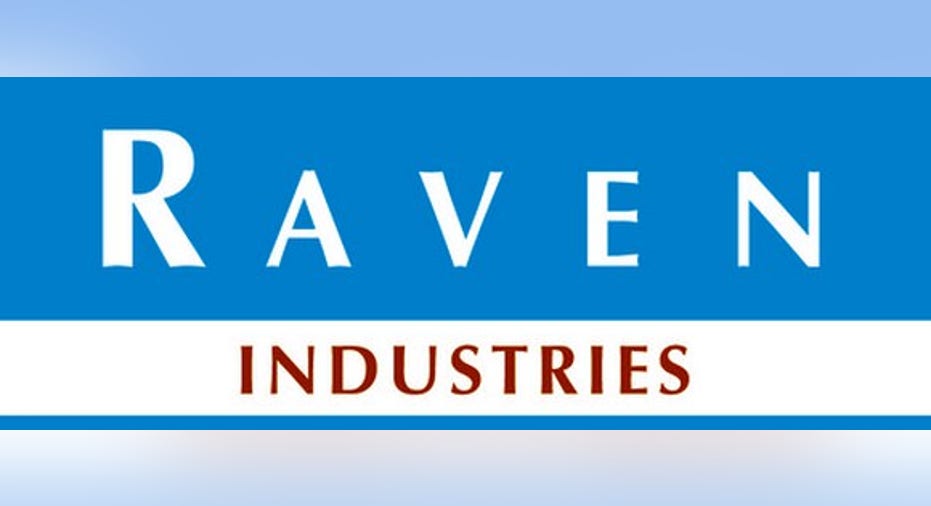 Image source: Raven Industries, Inc.
What:Shares of Raven Industries Inc.were up 16.6% as of 12:00 p.m. EST Thursday after the mini-industrial conglomerate announced stronger-than-expected fiscal first-quarter 2017 earnings.
So what:Quarterly revenue fell 2.7% year over year, to $68.7 million, as 19.7% year-over-year growth in Aerostar Division revenue was more than offset by a 2.7% decline in Applied Technology revenue, to $31.5 million, and a 7.1% drop from Engineered Films sales, to $29.1 million. That said, Raven also stated both Applied Technology and Engineered Films "exhibited improved sales trends despite continued end-market demand challenges [...]."
On the bottom line, that translated to a 12.2% increase in net income, to $5.5 million, or $0.15 per share, helped by favorable tax developments and share repurchases over the past year.
Analysts, on average, were anticipating Raven would report significantly lower net income of $0.09 per share, albeit from higher revenue of $70.3 million.
Now what: As per usual amid persistent market headwinds, Raven opted not to offer specific financial guidance for the coming year. But CEO Dan Rykhus did state Raven's decision last year to restructure its cost profile and continue research and development investments despite declining revenue are "positively impacting our results."
Rykhus elaborated:
For perspective, last quarter Rykhus told investors to expect roughly flat sales and adjusted operating income for the full fiscal year 2017, "with the potential to achieve very modest growth in each." Given Raven's strong start to the year and demonstrated progress to that end, it's no surprise to see the market bidding up shares on Thursday.
The article Why Raven Industries, Inc. Stock Skyrocketed Today originally appeared on Fool.com.
Steve Symington has no position in any stocks mentioned. The Motley Fool recommends Raven Industries. Try any of our Foolish newsletter services free for 30 days. We Fools may not all hold the same opinions, but we all believe that considering a diverse range of insights makes us better investors. The Motley Fool has a disclosure policy.
Copyright 1995 - 2016 The Motley Fool, LLC. All rights reserved. The Motley Fool has a disclosure policy.