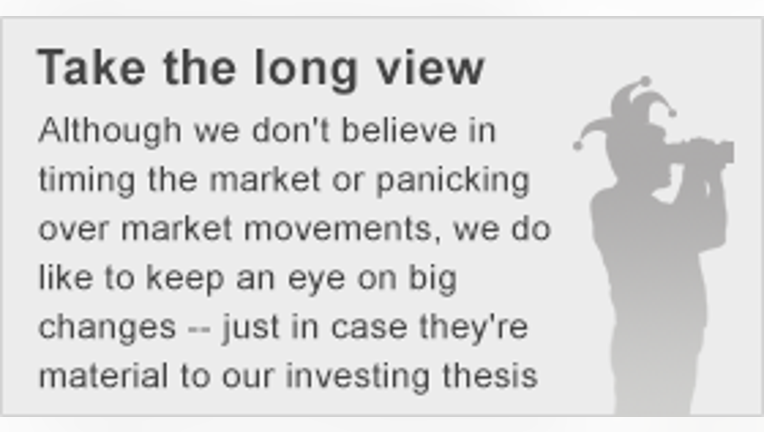 What: Shares of Radius Health a biopharmaceutical company focused on developing products that treat osteoporosis and other endocrine-mediated diseases, were up more than 26% as of 10:00 a.m. EST after a competitor reported data from a late-stage clinical trial.
So what: Biotech giantAmgen and its European partner UCB released data from their Phase 3 FRAME study related to their investigational osteoporosis drugromosozumab. The study showed thatromosozumab was able to met its co-primary endpoints as it successfully reduced the incidence of new vertebral fractures in postmenopausal women with osteoporosis in months 12 through 24. The study also showed that women who used the once-a-month injectable experienced a 73% reduction in their risk of developing a spine fracture when compared to patients who took a placebo.
This news caused Radius Health's investors to cheer as the company's experimentalosteoporosis drug abaloparatide demonstrated an 86%reduction in the risk of developing a spine fracture when compared to placebo, which might help to give it a slight clinical edge if both drugs find their way to market.
Now what: Shares ofRadius Health were mauled in January so I understand why investors are bidding them up so much today based on this news released. With an estimated 2 million osteoporosis-relatedbone fractures occurring annually in the U.S. alone the market opportunity forabaloparatide looks huge if it can demonstrate clinical superiority over competing drugs. However, even with clinical data on its side its unknown which of these two drugs will ultimately win in the market place -- assuming that both eventually find their way to market -- as Radius Health's abaloparatide requires a daily injection whereas Amgen's romosozumab only has to be administered once-a-month. Will this data be good enough to convince patients and providers that the extra 29 injections a month is worth it?
We won't yet know if either abaloparatide or romosozumab will find their way to market as both drugs have yet to be submitted to the FDA for approval, but both Amgen and Radius have announced plans to have their drugs in regulators hands this year. Radius Health will be releasing its fourth-quarter earnings on Feb. 25, so investors might want to listen in for an updated timeline on a FDA submission.
The article Why Radius Health Inc. is Screaming Higher Today originally appeared on Fool.com.
Brian Feroldi has no position in any stocks mentioned. The Motley Fool has no position in any of the stocks mentioned. Try any of our Foolish newsletter services free for 30 days. We Fools may not all hold the same opinions, but we all believe that considering a diverse range of insights makes us better investors. The Motley Fool has a disclosure policy.
Copyright 1995 - 2016 The Motley Fool, LLC. All rights reserved. The Motley Fool has a disclosure policy.