Why Qualcomm, Inc. Stock Spiked 30% in 2016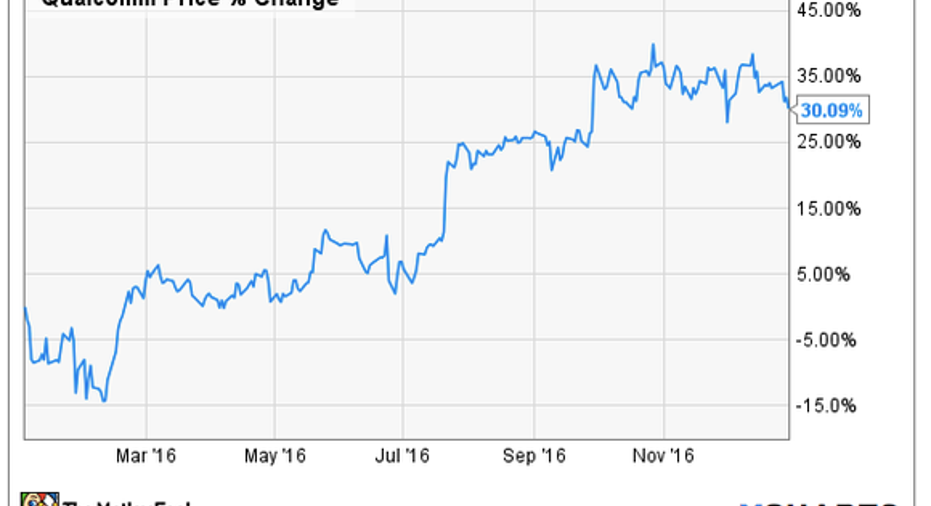 Image source: Qualcomm.
What happened
Qualcomm, Inc.'s (NASDAQ: QCOM)stock price jumped 30.09% in 2016, according to data provided byS&P Global Market Intelligence, thanks topositive news for the company'spatent licensing division, a midyear earnings beat, and Qualcomm's bid to buy NXP Semiconductors N.V. (NASDAQ: NXPI).
Image source: YCharts.
So what
Qualcomm's stock began ticking up in early 2016 after the company announced it was seeing improvements to itsQualcomm technology licensing (QTL) division. That was very welcome news to investors, as the company's most profitable division had been hit hard by smartphone makers, mainly in China, who refused to pay the 3G and 4G licensing fees that Qualcomm has come to rely on.
The company said in February that it expected $8 billion from its QTL division in 2016, with that number hitting $10 billion by 2020.
Then, in July, Qualcomm's stock price got another shot in the arm when the company easily beat analyst estimates and improved QTL revenue in the fiscal third quarter. Total revenue grew by 3.6% year over year to $6.04 billion -- beating the average analyst estimate by about $400 million -- and QTL revenue jumped 6% on a yearly basis.
The company also forecast optimistic earnings for the fiscal fourth quarter, further solidifying the idea that Qualcomm was leaving its most difficult days behind.
The last major jump came toward the end of September on rumors (that later proved true) that Qualcomm was in talks to buy chipmaker NXP Semiconductors.The purchase of NXP could help Qualcomm transition beyond the slowing smartphone market and focus more of its attention on the growing Internet of Things and self-driving car markets.
Now what
Unfortunately, the investor optimism from 2016 hasn't exactly spilled into this year. The Federal Trade Commission (FTC) officially charged Qualcomm for antitrust patent licensing practices last month. That came around the same time that Apple launched two patent licensing lawsuits against the company as well..The effect from the iPhone maker's and FTC's litigation has sent Qualcomm's stock tumbling more than 16% since the beginning of the year.
With the company just beginning the process of tackling these lawsuits -- and having just gotten out of similar patent licensing problems in 2016 -- it would appear that Qualcomm investors may be gearing up for a rocky 2017.
10 stocks we like better than QualcommWhen investing geniuses David and Tom Gardner have a stock tip, it can pay to listen. After all, the newsletter they have run for over a decade, Motley Fool Stock Advisor, has tripled the market.*
David and Tom just revealed what they believe are the 10 best stocks for investors to buy right now... and Qualcomm wasn't one of them! That's right -- they think these 10 stocks are even better buys.
Click here to learn about these picks!
*Stock Advisor returns as of February 6, 2017
Chris Neiger has no position in any stocks mentioned. The Motley Fool owns shares of and recommends AAPL and Qualcomm. The Motley Fool has the following options: long January 2018 $90 calls on AAPL and short January 2018 $95 calls on AAPL. The Motley Fool recommends NXP Semiconductors. The Motley Fool has a disclosure policy.