Why QUALCOMM Inc. Fell 18% in November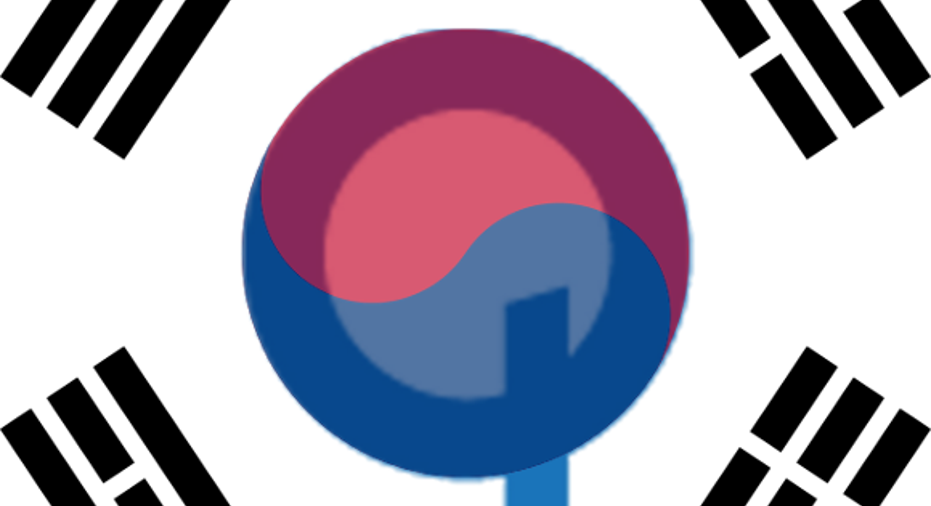 What: Shares of QUALCOMM fell 17.9% in November, according to data from S&P Capital IQ. Two quick hits erased all the gains from a profitable October, with plenty of vitriol left over.
IMAGE SOURCE: AUTHOR, USING QUALCOMM FOR THE LOGO AND A PUBLIC-DOMAIN KOREAN FLAG.
So what: First, the giant chip designer reported solid fourth-quarter results with a side of downright terrible forward guidance. Moreover, management is losing forward visibility to the point that they will now stop providing full-year guidance figures in these quarterly updates. Shares fell more than 15% the next day, setting the tone for a brutal November.
Two weeks later, Qualcomm disclosed a new anticompetition investigation against the company by regulators in South Korea. This case could drag on for years, like the last Korean complaint did. That time, Qualcomm ended up paying a hefty $236 million fine for encouraging Korean device makers to use the former's own chips rather than licensed alternatives based on Qualcomm's technology patents. Qualcomm shares took another 10% dive on this news.
Now what: All told, Qualcomm investors have seen their shares falling nearly 35% in 2015. And it's not an industry thing, but Qualcomm's own pain.
Archrival Texas Instruments has gained 6% over the same period. Slightly smaller but even more direct blow-for-blow competitor Broadcom has surged 33% higher.
It's all about execution. Broadcom and TI have held their cash flows relatively steady over the past year. Meanwhile, Qualcomm's free cash flows shrank by 38%. Revenue figures play out a similar story.
That Korean regulatory threat may cost Qualcomm some serious cash, albeit several years down the line.
But before worrying about that distant threat, Qualcomm's leadership and investors must focus on getting back to profitable growth. Losing big-ticket contracts and getting distracted by anticompetitive investigations is not a great way to get there.
The article Why QUALCOMM Inc. Fell 18% in November originally appeared on Fool.com.
Anders Bylund has no position in any stocks mentioned. The Motley Fool owns shares of and recommends Qualcomm. Try any of our Foolish newsletter services free for 30 days. We Fools may not all hold the same opinions, but we all believe that considering a diverse range of insights makes us better investors. The Motley Fool has a disclosure policy.
Copyright 1995 - 2015 The Motley Fool, LLC. All rights reserved. The Motley Fool has a disclosure policy.