Why Puma Biotechnology, Inc. Stock Soared 65.1% in July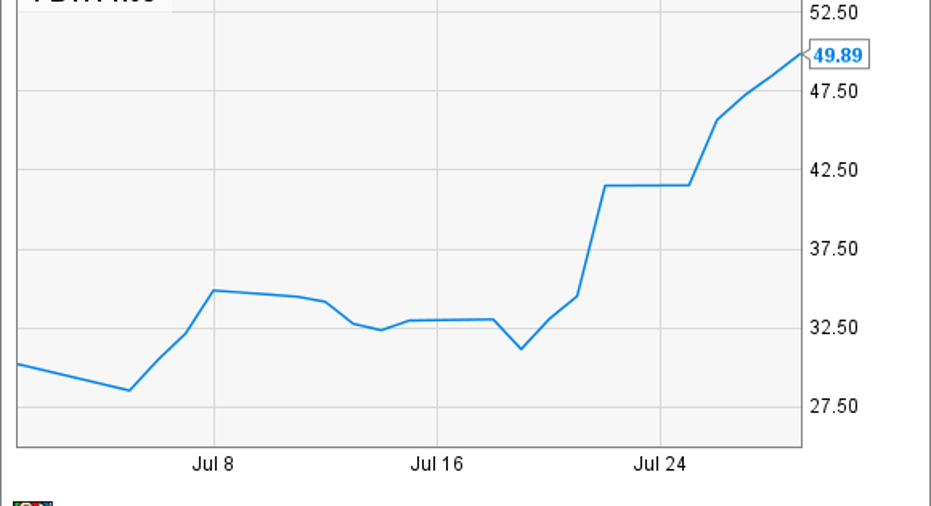 Image source: Getty Images.
What: Shares of Puma Biotechnology, Inc. (NYSE: PBYI)a clinical-stage biopharmaceutical company developing a cancer therapy, shot up 65.1% in July, according to data from S&P Global Market Intelligence. A long-awaited new drug application filing for the company's only late-stage candidate accompanied by favorable long-term outcome data are bringing investors back to the stock.
So what:Herceptin fromRocheis an additional therapy typically given to breast cancer (and some stomach cancer) patients with tumors that over-express HER2 after initial standard treatment in order to destroy any remaining cancer cells. In industry jargon, we call this the "adjuvant setting," and it's quite lucrative. First approved by the FDA in 1998,Roche's Herceptin is still growing revenue, and it finished the first half on pace to pass $7 billion in sales this year.
Before announcing the submission of a neratinib application to the FDA, Puma Biotechnology's market cap had sunk below $1 billion. Even after the recent run-up, achieving a fraction of Herceptin's success would easily justify its $1.54 billion market cap, but this drug's future is cloudy at best.
Puma is applying for theextendedadjuvant setting, or after treatment with Herceptin, not in place of it. Roche is rapidly filling this space with its own Perjeta, a drug approved in 2014 that might reach sales of $2 billion this year.
Clearly, the extended adjuvant setting is a significant market, but neratinib has an uphill battle to achieve success on Perjeta's scale.
Now what:Puma's long-term phase 3 data is a step in the right direction, but the company isn't out of the weeds yet. The first thing you'll want to look for is news that the FDA accepts the application. Typically, the agency has 60 days to accept or reject a submission, which is why most drugmakers wait for acceptance before announcing a submission in the first place.
If accepted and approved, it's going to have a difficult time unseating Perjeta in the extended adjuvant setting.Puma's neratinib application is based on results from a phase 3 trial with patients receiving Herceptin followed by neratinib, or a placebo. After two years, 91.6% of patients in the placebo group exhibited invasive disease-free survival (DFS), which was slightly lower than 93.9% DFS in the group treated with neratinib. After five years, neratinib's advantage is slightly more pronounced, with placebo group DFS at 87% and the neratinib group at 90.4%, but this could be a tough drug to sell given its competition.
Puma Biotechnologybelieves neratinib could offer an advantage over existing treatments by more potently inhibiting HER2 at a different site.Unfortunately, it hasn't done a great job of proving this with clinical studies. Duringtrials leading to Perjeta's approval, adding it to a chemotherapy-plus-Herceptin regimen significantly increased progression-free survival from 12.4 months to 18.5 months, a 49% drop in disease progression risk.
Invasive disease-free survival is a more stringent efficacy measurement than progression-free survival, and we don't have direct, head-to-head neratinib vs. Perjetatrial data, so this comparison should be taken with a grain of salt.That said, Puma also needs to get sales personnel in front of busy oncologists to explain neratinib's advantages. Considering it's up against one of the world's largest pharmas and an oncology powerhouse, earning approval will be the easy part.
A secret billion-dollar stock opportunity The world's biggest tech company forgot to show you something, but a few Wall Street analysts and the Fool didn't miss a beat: There's a small company that's powering their brand-new gadgets and the coming revolution in technology. And we think its stock price has nearly unlimited room to run for early, in-the-know investors! To be one of them, just click here.
Cory Renauer has no position in any stocks mentioned. You can follow Cory on Twitter @TMFang4apples or connect with him on LinkedIn for more healthcare industry insight. The Motley Fool has no position in any of the stocks mentioned. Try any of our Foolish newsletter services free for 30 days. We Fools may not all hold the same opinions, but we all believe that considering a diverse range of insights makes us better investors. The Motley Fool has a disclosure policy.