Why Progenics Pharmaceuticals, Inc. Stock Climbed 76.5% in November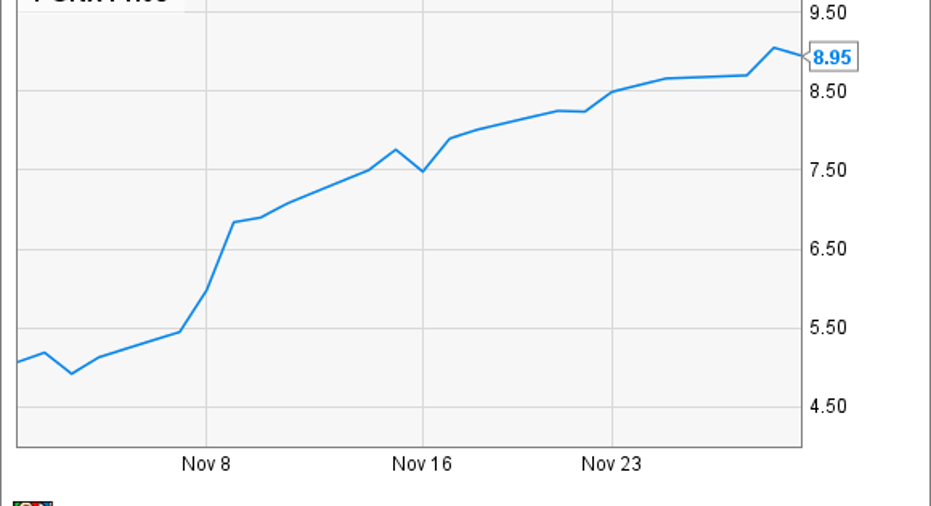 Image source: Getty Images.
What happened
Shares of Progenics Pharmaceuticals, Inc. (NASDAQ: PGNX), a small biotech with an oncology focus, rocketed up 76.5% in November, according to data from S&P Global Market Intelligence.An inflow of capital on the heels of another Relistor approval in partnership with Valeant Pharmaceuticals (NYSE: VRX) lifted investors' spirits.
So what
It's been an exciting few months for Progenics Pharmaceuticals. A tablet version of its first commercial product, Relistor, for treatment of opioid-induced constipation, earned FDA approval in July, triggering a $50 million milestone payment from its partner, Valeant Pharmaceuticals.
Following Relistor's first approval as a subcutaneous injection in 2008, royalty income from Valeant has been modest. Investors were pleasantly surprised when third-quarter revenue came in about $950,000 higher than expectations. While analysts expected the $50 million milestone payment, a 175% leap in royalty income to $3.3 million caught the market off guard.
The earnings release coincided with an announcement that the company also borrowed $50 million backed by future royalties, with a second tranche of an equal amount possible within the next 12 months. Progenics finished September with about $98 million in cash and cash equivalents. Another $50 million from the loan (plus possibly another $50 million available in the near term) suggests the company might turn the profitability corner without a need to dilute shares with another equity offering.
Now what
While the launch so far has been modest, Progenics could receive up to $200 million in commercial milestone payments, plus tiered royalties up to 19% on worldwide sales. While increasing sales of Relistor in response to a tablet version is nothing to sneeze at, investors are even more fired up about two wholly owned entities in Progenics' late-stage pipeline.
Investigators have completed dosing patients with Azedra in a study that could lead to its approval as a hybrid imaging diagnostic and treatment for a group of rare malignancies. Progenics also has another interesting candidate, simply named 1404, in another pivotal trial intended to support an application for its use as an imaging agent in prostate cancer patients.
Granted, neither of these programs is about to grab the big headlines. If approved, though, Azedra's orphan indication would entitle Progenics to substantial research-and-development reimbursement. With such a small population of severely affected patients facing limited treatment options, its commercial launch should be within the company's financial means.
Despite the recent run-up, the company's market cap is still a modest $605 million at recent prices. Progenics has several other irons in the fire, but it looks as if 1404, Azedra, and Relistor revenue justify the price on their own. That makes this one of the most intriguing biotech stocks that almost nobody's talking about.
10 stocks we like better than Progenics Pharmaceuticals When investing geniuses David and Tom Gardner have a stock tip, it can pay to listen. After all, the newsletter they have run for over a decade, Motley Fool Stock Advisor, has tripled the market.*
David and Tom just revealed what they believe are the 10 best stocks for investors to buy right now... and Progenics Pharmaceuticals wasn't one of them! That's right -- they think these 10 stocks are even better buys.
Click here to learn about these picks!
*Stock Advisor returns as of Nov. 7, 2016
Cory Renauer has no position in any stocks mentioned. You can follow Cory on Twitter @coryrenauer or LinkedIn for more investing insight.
The Motley Fool owns shares of and recommends Valeant Pharmaceuticals. Try any of our Foolish newsletter services free for 30 days. We Fools may not all hold the same opinions, but we all believe that considering a diverse range of insights makes us better investors. The Motley Fool has a disclosure policy.