Why President Donald Trump Would Be Bad for Silver Miners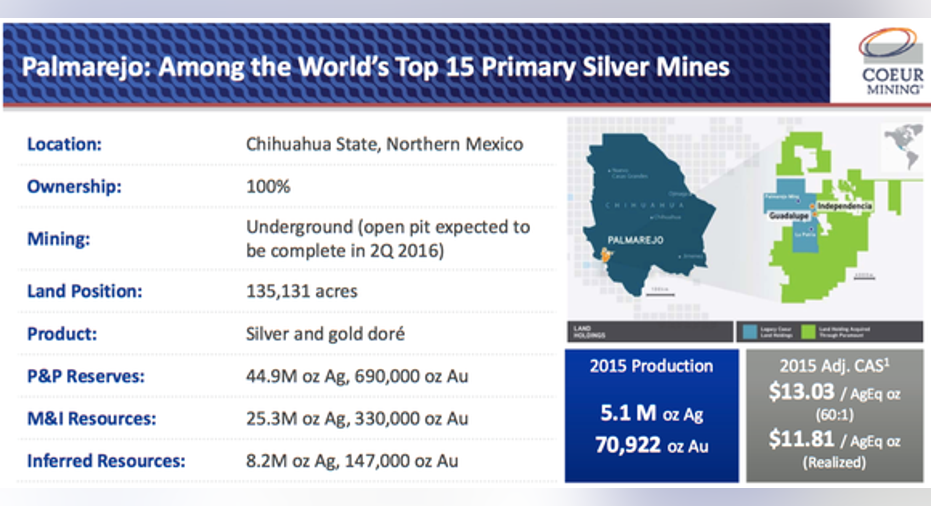 Gold might glitter, but it's silver that shines in the economy, and any disruption to its supply could have severe ramifications. Image source: Getty Images.
There's certainly been no letup in the war of words between presumptive Republican presidential candidate Donald Trump and Mexico over the issue of illegal immigrants and the idea of building a wall to keep them out. In April, Trump released a memo outlining his plan to get Mexico to actually pay for a wall's construction, and former Mexican president Vicente Fox used some colorful language to rebuff the notion.
Regardless of the merits of the plan or its chances of success, it's likely a Donald Trump presidency would see an escalation of tension between the two sides. And the result could cause significant problems, though perhaps not in ways you'd consider.
Trading barbs
When two nations squabble over trade, it's always a different industry that bears the brunt of the retaliation, not the original industry being hurt by tariffs or quotas. When President Obama imposed steep tariffs on Chinese-made tires several years ago, it wasn't Goodyear Tire & Rubber that China retaliated against, but rather Tyson Foods and Pilgrim's Pride, whichsaw export tariffs on poultry suddenly double.
Similarly, when Obama went after cheap Chinese steel, it was Ford and GM that came under stricter scrutiny by regulators.
In a Donald Trump presidency that sought to limit Mexican immigration, it wouldn't be some related industry that would bear the brunt, but likely one where the pain would be more acute. Although there are few industries that might fill the bill, few might be more strategically useful than silver.
It's not just immigrants entering the U.S. from Mexico
Mexico produces more silver than any other country in the world, producing 189.5 million ounces last year, according to the Silver Institute: 40% more than second-place Peru, which produced less than 140 million ounces. The U.S., which is ninth on the list, produced 35.4 million ounces in 2015, down 6.5% from the year before.
The U.S. is also the world's largest importer of silver, or was until last year when it was surpassed by India. Of particular significance, though, is that the U.S. typically imports more than half of that supply from just one country: Mexico.
Of the total 5,935 metric tons imported into the U.S. last year, 2,850 metric tons came from south of the border. The next biggest contributor to the U.S. silver supply was Canada with 1,922 metric tons, with the two accounting for 80% of the total.
That could obviously be a problem because more so than gold, silver is seen as an industrial metal. In fact, the top use of silver in the U.S. is for electrical parts and electronics, at 29%, though coins and medals were a close second at 25%. You might think jewelry would claim a big portion of silver's usage, but it accounted for only 7% of the total.
All of which explains why, if Donald Trump becomes president, silver might be in for a rough ride.
The biggest loser
Coeur Mining , because of its heavy reliance upon Mexico for total production, would likely be impacted most. It produced 5.5 million ounces of silver in Mexico last year, or 23% of its total, almost all of it at its Palmarejo mine, which also accounted for 27% of total revenues. However, as the miner's footprint has expanded to other sites, primarily in the U.S., the importance of Mexico has declined -- five years ago, Palmarejo was responsible for 50% of Coeur's total revenues.
Coeur Mining's Palmarejo mine in Durango, Mexico, still reigns supreme. Image source: Coeur Mining analyst presentation, June 2016.
Still, Coeur also owns the San Miguel project adjacent to Palmarejo, which it obtained after acquiring Paramount Gold and Silverlast year, as well as the La Preciosa exploration project, so it's clear that any interruption of its operations would have a major impact on its performance.
To a lesser extent, Hecla Mining might feel the pinch too. It produced almost 11.6 million ounces of silver last year, though the vast majority came from outside Mexico. However, in the fourth quarter of 2015, Hecla restarted production at its San Sebastian silver mine in the state of Durango.
It had operated underground mines there until 2005, but discovery of near-surface quantities caused Hecla to revisit the site. It began processing ore from there last December, averaging approximately 300 tons per day over 22 days of operation, with recovery of approximately 90% silver and 89% gold. San Sebastian produced almost 81,700 ounces of silver, a relatively negligible amount at the moment, but with some 8 million ounces in proven and probable reserves, it's not a resource Hecla would willingly want to lose.
The ripple effect
Other miners likeFirst Majestic Silver and Pan American Silver are among the industry's biggest and have a substantial presence in Mexico, but being Canadian, they would presumably not feel any backlash. Even so, if Mexico wanted to squeeze the U.S., it could apply pressure to international operators.
So in a caustic war of words between a President Donald Trump and our neighbor to the south, Coeur Mining would probably feel the heat most, thoughgold miners could be jeopardized as well.Royal Gold , for example, generates 23% of its revenues from Mexico.
But automakers Ford and GM aren't off the hook either, as both have substantial manufacturing facilities located in Mexico, and could face a crackdown on another industry.
An ill wind
Of course, campaign rhetoric is one thing, and the art of governance another. But one thing is clear: Trade wars benefit no one, least of all consumers. There might be legitimate concerns raised about the influx of illegal immigrants, yet creating a backlash that damaged other industries or large swaths of the economy would help no one.
The article Why President Donald Trump Would Be Bad for Silver Miners originally appeared on Fool.com.
Rich Duprey has no position in any stocks mentioned. The Motley Fool owns shares of and recommends Ford. The Motley Fool recommends General Motors. Try any of our Foolish newsletter services free for 30 days. We Fools may not all hold the same opinions, but we all believe that considering a diverse range of insights makes us better investors. The Motley Fool has a disclosure policy.
Copyright 1995 - 2016 The Motley Fool, LLC. All rights reserved. The Motley Fool has a disclosure policy.