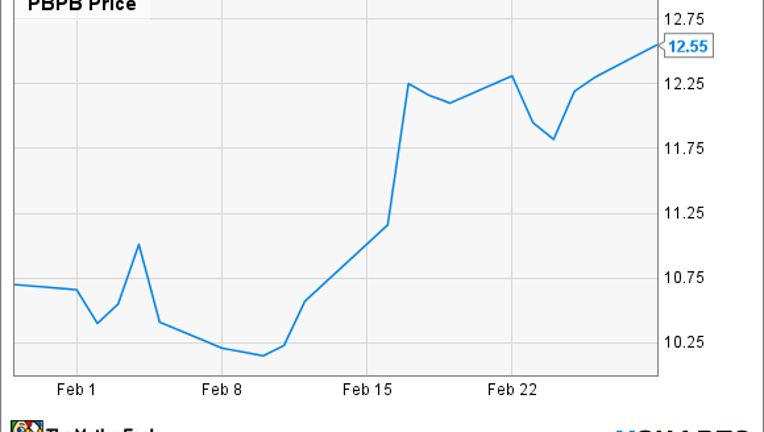 Potbelly Corporation saw its stock jump after it reported earnings on Feb. 16, helping boost it for the month.
The company's shares closed at $10.70 on Jan. 29, rising to $12.55 on Feb. 29, when trading closed for the month, a 17.3% gain, according to data provided by S&P Global Market Intelligence. The run-up started when the sandwich shop chain released its Q4 and full-year numbers on Feb. 16.
Image source: YCharts.com.
What: Potbelly reported that in Q4, total revenues increased 12.1% to $95.1 million from $84.8 million during the same period in 2014. In addition, company-operated comparable-store sales increased 3.7%. During the quarter, adjusted EBITDA increased 14.8% to $10.8 million from $9.4 million.
For the full year, total revenues increased 14% to $372.8 million from $327.0 million in 2014, and company-operated comparable-store sales increased 4.4%. During 2015, Potbelly also opened 53 new stores, including 43 company-operated locations and 10 franchised shops. The sandwich chain also opened its first franchise shop in the United Kingdom.
So what: Potbelly put up solid numbers during a year in which a number of quick-serve chains struggled to grow at all. Though the chain is still relatively small, it showed that it can add locations while maintaining profitability. That's a good sign for 2016, when it plans to ramp up growth even further, adding another55-65 locations, including 45-50 that would be company-owned.
Now what: It's all about growth as the sandwich chain heads into 2016, according to CEO Aylwin Lewis.
"The 2015 results reinforce our ability to achieve our long-term financial goals of at least 10% annual new unit growth for the foreseeable future, low single-digit comps, at least 20% annual adjusted net income growth and at least 25% return on shop investments," he said in the earnings release.
Potbelly has been on a slow and steady growth path, and there is no reason to believe it will stumble in 2016. The chain is expanding in a similar fashion to its past-year growth, so it should be able to deliver on Lewis's promises as it continues to add company-owned stores as well as franchisees.
The article Why Potbelly Corporation Stock Gained 17.3% in February originally appeared on Fool.com.
Daniel Kline has no position in any stocks mentioned. He has never eaten at a Potbelly because he has a gluten allergy making sandwiches a challenge. The Motley Fool has no position in any of the stocks mentioned. Try any of our Foolish newsletter services free for 30 days. We Fools may not all hold the same opinions, but we all believe that considering a diverse range of insights makes us better investors. The Motley Fool has a disclosure policy.
Copyright 1995 - 2016 The Motley Fool, LLC. All rights reserved. The Motley Fool has a disclosure policy.