Why Popeyes Louisiana Kitchen Inc. Stock Jumped 25% in February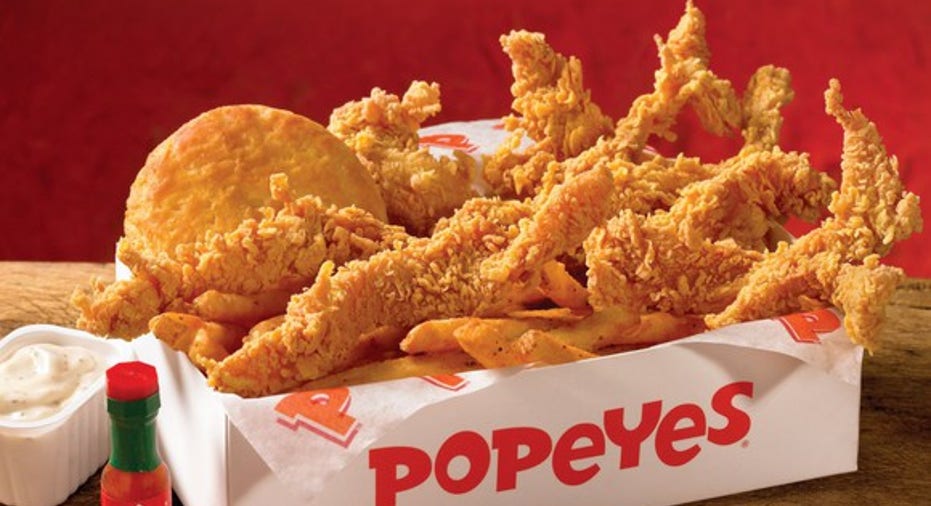 What happened
Shares of Popeyes Louisiana Kitchen Inc. (NASDAQ: PLKI) skyrocketed 25% in the month of February,according to data provided byS&P Global Market Intelligence, after the chickencentric fast-food chain announced it will be acquired by Burger King and Tim Hortons parent company,Restaurant Brands International (NYSE: QSR).
So what
Popeyes' climb last month actually came in two chunks. First, shares briefly spiked as much as 14% on February 13, 2017, after Reuters reported that Restaurant Brands International had approached the smaller company about striking a deal. But Popeyes stock gave up most of those gains as the market digested the caveat fromReuters' sources that the two companies had yet to agree on a price, as well as the fact "there [was] no certainty that negotiations [would] continue."
IMAGE SOURCE: POPEYES LOUISIANA KITCHEN.
Just over a week later, however, Popeyes stock popped more than 19% as the acquisition was formally announced. When all was said and done, Restaurant Brands International had agreed to pay $79.00 per share in cash for Popeyes, or roughly $1.8 billion, representing a healthy premium of 27% over Popeyes' unaffected 30-day average trading price.
Now what
Popeyes has since released its fourth-quarter and full-year 2016 results, confirming global same-store sales climbed 1.7% last year despite today's difficult restaurant environment. Within that figure, domestic same-store sales rose 1.4%, marking the chain's eight straight year of positive same-store sales growth stateside, while international same-store sales grew 4.4%, good for Popeyes' 10th straight year of positive same-store sales growth overseas. Meanwhile, Popeyes' net restaurant openings last year were 158, bringing its total base at the end of 2016 to 2,688 locations in the U.S., three territories, and 25 foreign countries.
Let it suffice to say, then, that Restaurant Brands International is gobbling up a promising brand capable of generating growth both organically and through steady location expansion.
As for Popeyes investors, note the acquisition is slated to close early next month. So with shares now trading just pennies below the agreed acquisition price -- and unless waiting longer to sell would result in more favorable long-term capital gains tax treatment -- I think Popeyes shareholders would be wise to take their profits and put them to work in another compelling stock.
10 stocks we like better than Popeyes Louisiana KitchenWhen investing geniuses David and Tom Gardner have a stock tip, it can pay to listen. After all, the newsletter they have run for over a decade, Motley Fool Stock Advisor, has tripled the market.*
David and Tom just revealed what they believe are the 10 best stocks for investors to buy right now... and Popeyes Louisiana Kitchen wasn't one of them! That's right -- they think these 10 stocks are even better buys.
Click here to learn about these picks!
*Stock Advisor returns as of February 6, 2017
Steve Symington has no position in any stocks mentioned. The Motley Fool has no position in any of the stocks mentioned. The Motley Fool has a disclosure policy.